French Teacher Sofia Park Wins 2019 Eberspacher Award for Excellence in Teaching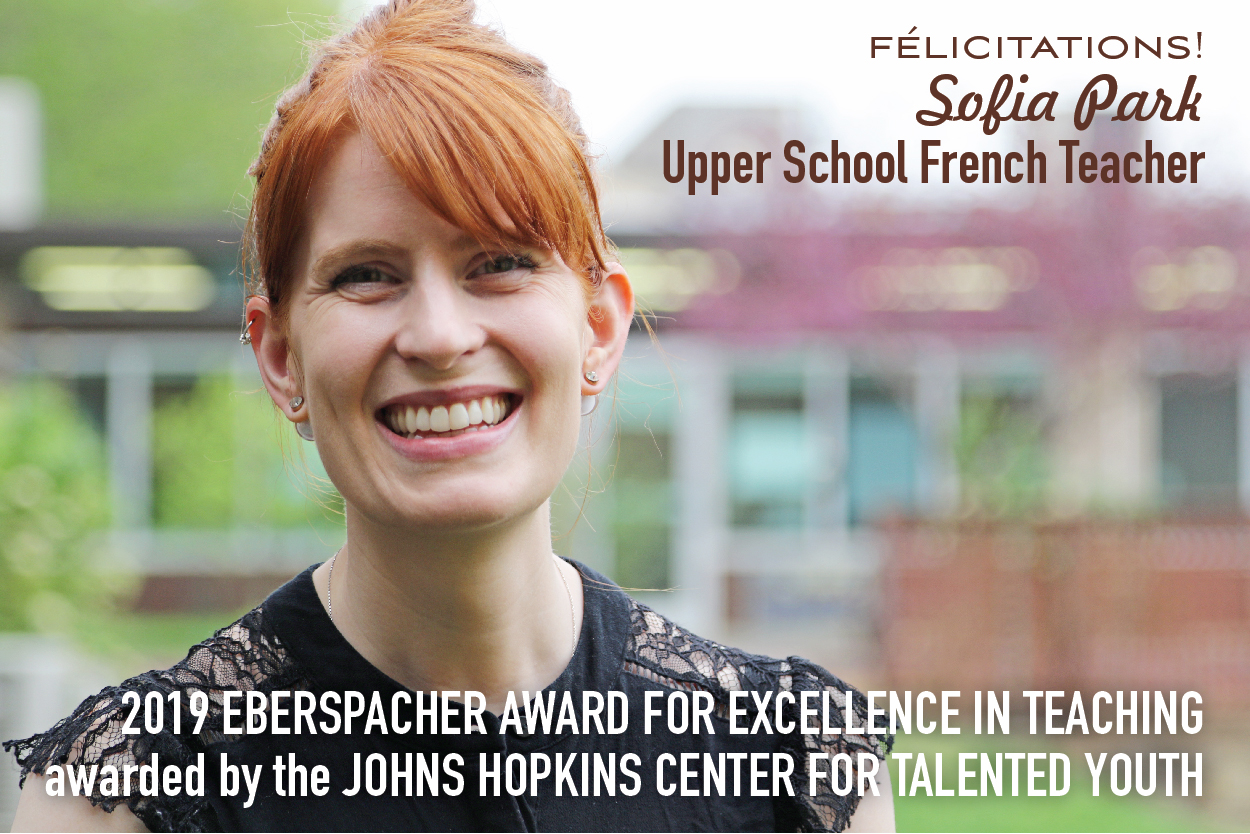 Upper School French teacher Sofia Park is the winner of this year's Friedel and Otto Eberspacher Award for Excellence in the Teaching of a Modern Western European Language from the Johns Hopkins Center for Talented Youth (CTY). Félicitations, Sofia!
From the Johns Hopkins CTY Press Release:
Presented each year to an educator who inspires students to understand the world's people and cultures, the award was established in 1989 by Lieselotte E. Kurth of Johns Hopkins University's German Department. It includes a $1,500 prize.
Students in Grades 7-12 who participate in CTY's humanities and writing Summer Programs courses can nominate a teacher from their home school for the award. Sophomore Maya Newman-Toker nominated Park after participating in CTY's Existentialism course last summer.
Nominees are encouraged to submit an essay discussing pivotal moments in their language education and teaching careers. Park, a native of Rennes, France, writes about a misunderstanding that led her to a career in teaching French: as a student at the Sorbonne, she applied to graduate school through an exchange program with the University of Southern California, where she planned to study film. She accepted a "lecteur" position that turned out to be more responsibility than she anticipated. "In France, 'lecteur' meant you would meet with students to help with conversational French and pronunciation," she writes — a sort of informal tutor. But Park, then 22, was actually expected to teach the language to students her own age. She worried that as a native French speaker, she lacked the perspective to be able to explain why the language works the way it does.
But in fact, the experience caused her to appreciate French in a new way. Now, 11 years later, Park teaches high school courses in standard French as well as a variety of advanced electives, including Introduction to French Cinema.
When students arrive in her classroom, French music is playing —"If it's 9 a.m. to wake them up, and if it's 1 p.m., to slow them down," she says. "The goal is to improve their mood so they're ready to learn." Park also uses movement to teach the language; for example, she takes students outside and gives them a series of commands in French. "Do jumping jacks," she says. "Now do crunches. Run around. Drink some water. Breathe."
"The movement helps them learn," Park says.
She says the best part about teaching is seeing her students become comfortable with the language. "Last year a student told me, 'I was riding my bike, and I realized that the whole time I was thinking in French,'" she says. "That's the most rewarding thing for me — the pride they have in themselves."
The Johns Hopkins Center for Talented Youth is a nonprofit at one of the nation's premiere universities. CTY identifies academic talent in the world's brightest K-12 learners and supports their growth with accredited summer, online, and family programs, services, and resources designed to meet their needs.
Back to The Latest
Share
Related Posts
Visual Arts Chair Christine Tillman Featured in BmoreArt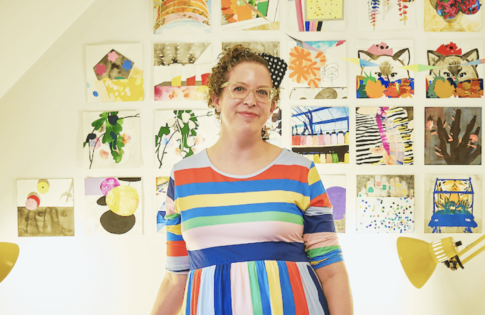 Park School's Pre-K-12 Visual Arts Chair and Upper School Visual Arts Teacher Christine Buckton Tillman was featured in BmoreArt this week. The in-depth interview covered art education, the Baltimore art...
Park's ISAMR Club Featured on WYPR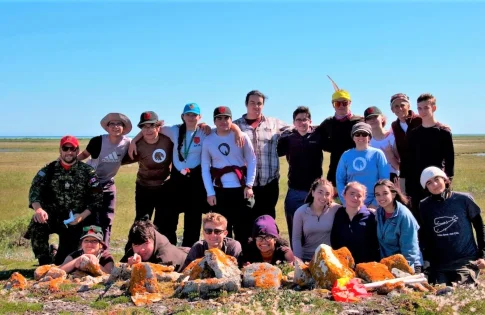 Today WYPR spoke with Park's Upper School science department chair Julie Rogers and Poly's Upper School environmental science teacher Vicki Mathew about the International Student-led Arctic Monitoring and Research program...
Upper School Dean of Students Traci Wright and Alumni of the Civil Rights Trip Remember Rep. John Lewis with WBAL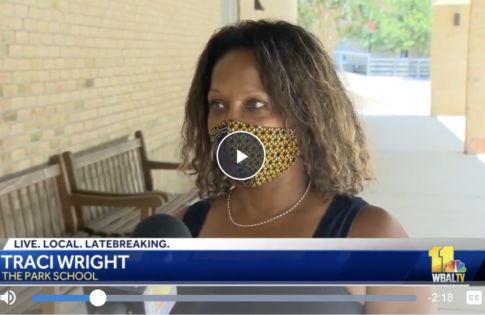 Upper School Dean of Students Traci Wright has led over 600 students from Park and Baltimore City Public Schools on an annual trip though the south to study the Civil...