Millhauser Fellowship
The Park School Graduate Student Fellows Program in Science, Mathematics, and Technology was originated by Louise Eiseman Robinson Millhauser '30 in 1998, and has been continued through the kindness and generosity of her son, Allen Robinson. The program celebrates the careers of young alumni currently in graduate school in these fields by inviting them to return to Park and share their research with Upper School students.
The Fellows present their work to the Park community and spend a full day in classes and meetings with students and faculty. Students have the opportunity to appreciate the value of the graduate experience and better understand the importance of their own scientific pursuits. Cast in the role of mentors, the Graduate Fellows offer a valuable personal perspective on the many professional possibilities open to Park students.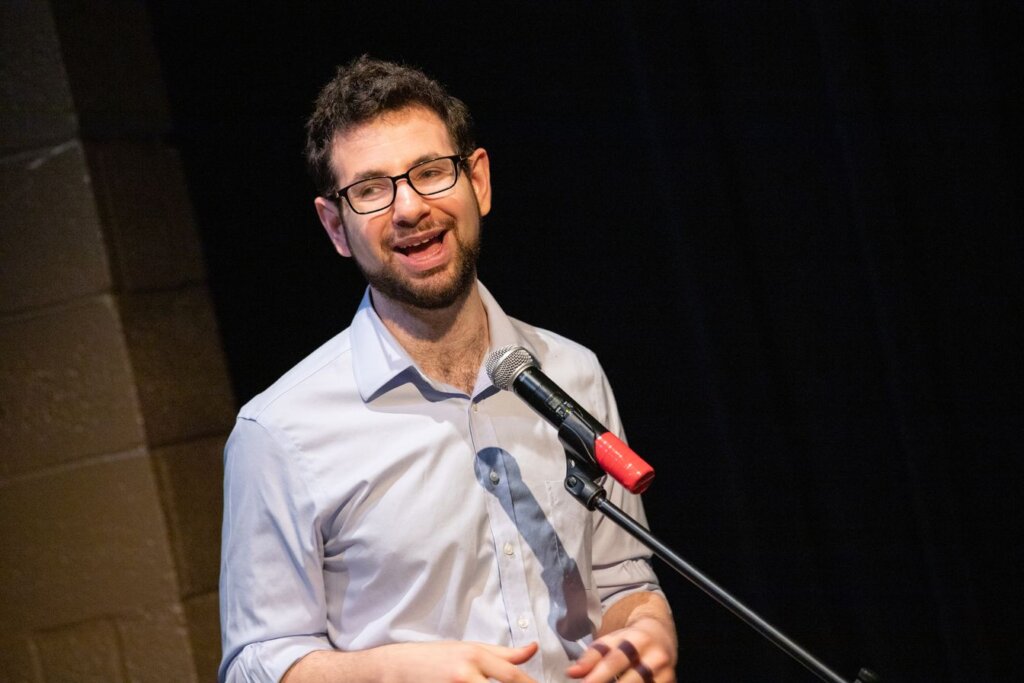 The program is a gift to Park School from alumna Louise Eiseman Robinson Millhauser '30. Her curiosity about the sciences and her appreciation for the value of her own Park education led to her interest in supporting this important initiative. We are grateful to her and her family for their continued generosity and support.
---
Recent Millhauser Fellows
2022-23
Jeremy Cohen '12
Jeremy graduated from Park in 2012 and went on to Princeton University, where he received his B.S. in Computer Science. After working at Spotify in New York for two years as a software engineer, he moved to Pittsburgh to begin a Ph.D. in machine learning at Carnegie Mellon University, where he is now in his fifth year. Jeremy's research interests include machine learning and optimization, artificial intelligence, and robotics.
Elana Liebow-Feeser '14
Elana is studying medicine at the Johns Hopkins University School of Medicine. She graduated with a B.S. in Psychology from Tufts University. Elana initially developed an interest in delivering medical care to under-resourced Spanish-speaking populations during her senior project at Park when she volunteered at University of Maryland's Shock Trauma Center. After graduating from Tufts, she worked for the JHU Department of Pulmonary and Critical Care as a Research Program Coordinator for a pulmonary auscultation and ultrasound study based at the National Institute of Child Health in Lima, Peru.
---
2018-2019
Emma Bratton '10
is studying to become a veterinarian at The Ohio State University (OSU) College of Veterinary Medicine. She is a graduate of Brown University where she double majored in Philosophy and Biology with a focus in Ecology and Evolutionary Biology. Emma is passionate about animal welfare science and has created her own clinical rotation track at OSU around issues related to this topic. She has presented her research nationwide. Emma was selected to represent the state of Ohio at the American Veterinary Medical Association Legislative Fly-In, where she was able to lobby members of Congress.
Samuel Hulse '08
is a Ph.D. student studying evolutionary biology and computational neuroscience at the University of Maryland Baltimore County (UMBC). He is a graduate of Juniata College where he earned a B.S. in Environmental Science. Samuel is currently a Teaching Assistant for both Comparative Physiology Lab and Anatomy and Physiology Lab at UMBC. He is a recipient of the Chateaubriand Fellowship, given by the Embassy of France in the United States to foster research partnerships between the two countries.
---
2017-2018
Lia Boyle '04
Lia attended St. John's College in Annapolis, briefly pursued a career in professional theatre, but then became interested in medicine while volunteering at the Kennedy Krieger Institute, where she was later hired as the Fragile X Clinic and Research Coordinator. She subsequently worked as a research technician at the University of Pennsylvania and then completed the Post Baccalaureate Premedical Program at Bryn Mawr College. She enrolled at the Columbia University Vagelos College of Physicians & Surgeons in 2013, and was awarded a NIH Summer Research Fellowship to work in the lab of Dr. Wendy Chung, a clinical and molecular geneticist, the summer after her first year of medical school.
She then joined Columbia's M.D./M.S. program following the completion of her preclinical medical education and major clinical year to continue her work in the lab. Lia accepted a predoctoral appointment in Columbia's Integrated Program in Cellular, Molecular, and Biomedical studies, putting her medical school studies on hold to complete her Ph.D., with the plan of ultimately graduating with both an M.D. and a Ph.D. Lia is planning a career as a pediatric geneticist who will study and treat rare neurodevelopmental disorders.
Dave Peck '07
As an undergraduate student at Tufts University, David studied biology, psychology, and environmental science. After graduation, he moved to Cornell University to enter the Ph.D. program in Neurobiology and Behavior. His work at Cornell focuses on the behavioral interactions between parasites and their hosts. He has studied the behavior of ticks possibly manipulated by the bacterium that causes Lyme disease, the behavioral manipulations of a sterilizing Chlamydia infection in laboratory mice, and, most significantly, the behavioral interactions between honey bees and the parasitic mite Varroa destructor, which is largely responsible for failing colony health in recent years.
In autumn, winter, and spring, David analyzes his data, works on theoretical models of host-parasite evolution, designs further experiments, teaches classes, and writes scientific manuscripts. In the summer, he spends what feels like every waking moment wearing long-sleeved shirts in the hot sun, lifting wooden hive boxes containing as much as 80 pounds of honey and tens of thousands of insects that could each, if so inclined, deliver a decidedly unpleasant sting. For reasons that are still unclear even to him, he enjoys this very much.
---
2016-2017
Rose Berns-Zieve '11
Rose attended Hamilton College where she majored in Mathematics and minored in Psychology and Anthropology. At Hamilton, she volunteered with America Reads and peer-tutored other Mathematics students. She participated in a summer Research Experience for Undergraduates (REU) at Miami University of Ohio where she co-authored a paper that has since been accepted for publication.
After graduating from Hamilton, Rose joined the Mathematics and Statistics Department at University of Massachusetts as a graduate student. She has received her master's degree and continues in the program working towards her Ph.D. with the goal of becoming a professor. Rose's current interests tend towards low-dimensional topology and geometric topology.
Yohance Allette '05
Yohance attended the University of Maryland Baltimore County with a major in Biological Sciences. He was a member of the 18th cohort of the Meyerhoff Scholarship Program, which is dedicated to increasing academic diversity in science, technology, engineering and related (STEM) fields. While enrolled at UMBC, Yohance was also accepted to both the McNair Scholars program and the MARC U*STAR program, both of which focus on preparing students applying to doctoral programs in the STEM fields. During his undergraduate studies, he worked in the research laboratory of Dr. Rachel Brewster, studying neurodevelopment in zebrafish. He also completed summer internships at Johns Hopkins Hospital and the University of Miami.
Upon graduation from UMBC with honors, he was accepted to the Medical Scientist Training Program (MSTP) at Indiana University School of Medicine. During his Ph.D. training he was awarded the CTSI pre-doctoral award for translation research, earned multiple authorships in both peer-reviewed journals and book chapters, and presented his research and meetings both within the United States and internationally. He continues to maintain a presence in the laboratory through both mentorship of new graduate students and bench work during research electives. As a medical student, Yohance worked in community outreach as education co-chair for the student-run outreach clinic at IU. He is currently working with other clinic board members to provide learning opportunities for the patients via several outreach programs involving IU schools of Dentistry, Social Work, and Nursing. Yohance is now a Resident Physician at IU.
---
Past Millhauser Fellows
---
2015-2016
Anthony Kinslow II '08
Rebecca Knowles '08
---
2014-2015
Ali Buchholz '03
Jenny Cooper '04
---
2013-2014
Sarah Dewey '05
Tamas Szalay '06
---
2012-2013
Tara Gelb '06
David Narrow '08
---
2011-2012
Megan Cohen '03
Alden Walker '03
---
2010-2011
Emily Meyers '03
Paul Nestadt '99
---
2009-2010
Gillian Braden '02
Danielle Cameron '01
---
---
2008-2009
Alexis Erwin '01
David Weiss '03
---
2007-2008
Sahar Lotfi-Emran '01
Will Hoffman '03
---
2006-2007
10th Anniversary Program
Past Fellows Featured
---
2005-2006
Eric Friedman '02
Megan Cole '99
Orlando Yarborough '99
---
2004-2005
Matt Hoffman '00
Lisa Medalie '98
Irit Altman '95
---
2003-2004
Michael Goldberg '94
Rebecca Kohn Rabin '93
---
---
2002-2003
Zach Hettinger '95
Safra Altman '93
Amy Morrison '96
---
2001-2002
George Shapiro '92
JP Connolly '96
---
2000-2001
Brad Rogers '92
Olga Polyakov '92
Jamie Schulte '92
---
1999-2000
Sam Brody '88
Michael Warres '91
Jenny Ahern '93
---
1998-1999
Lauri Richman '89
Harris Shapiro '90
John Millhauser '91
Susie Kaufman Lazerow '91