Weinberg Resident Journalists
The Resident Journalist program is sponsored by the family of Robert L. Weinberg, a member of the Class of 1940 and devotee of Baltimore journalist H.L. Mencken. Resident journalists give a presentation to Upper School students and meet with classes throughout the day.
2022-23 Resident Journalist: Michelle Singletary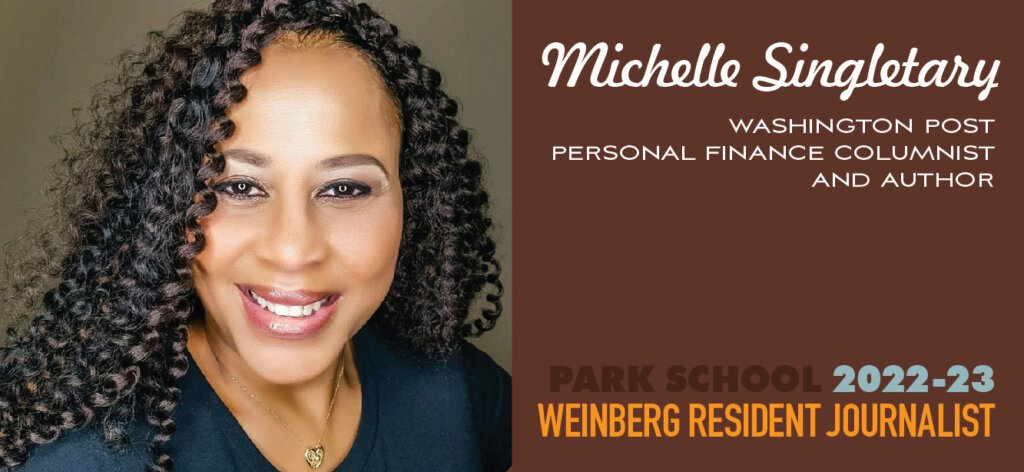 Michelle Singletary writes the award-winning and nationally syndicated personal finance column "The Color of Money," which appears in The Washington Post on Wednesdays and Sundays.
In 2021, she won the Gerald Loeb award for commentary. She has written four personal finance books, including, What to Do With Your Money When Crisis Hits: A Survival Guide and The 21-Day Financial Fast: Your Path to Financial Peace and Freedom. Singletary was the financial expert for "The Revolution," a daytime program on ABC. For two years, she was the host of her own national television program, "Singletary Says," on TV One. She is a frequent contributor to NPR programs and has appeared on national talk shows and television networks, including CNN, PBS, NBC's "Today" and "The Early Show on CBS." In her spare time, Singletary is the director of a ministry she founded at her church, in which women and men volunteer to mentor others who are having financial challenges. As part of this ministry, she and her husband also volunteer to teach financial literacy to prison inmates.
She is a graduate of the University of Maryland at College Park. She has received the Distinguished Alumni Award from Johns Hopkins University, where she earned a master's degree in business and management. In 2020, The Washington Post celebrated her long and distinguished career at the paper with the Eugene Meyer Award, its highest journalistic honor.
---
Past Weinberg Resident Journalists
2019-2020
Elizabeth Kolbert
Elizabeth Kolbert is an award-winning journalist and author. She has been a staff writer at The New Yorker since 1999. Previously, Elizabeth worked at the New York Times, where she wrote the Metro Matters column and served as the paper's Albany bureau chief. Her three-part series on global warming, "The Climate of Man," won the 2006 National Magazine Award for Public Interest and the 2006 National Academies Communication Award. She received a Heinz Award in 2010, and won the 2010 National Magazine Award for Reviews and Criticism.
She is the editor of The Best American Science and Nature Writing 2009 and the author of The Prophet of Love: And Other Tales of Power and Deceit; Field Notes from a Catastrophe; and The Sixth Extinction, for which she won the Pulitzer Prize for general nonfiction in 2015. She received the Blake-Dodd Prize from the American Academy of Arts and Letters in 2017.
2018-2019
Sacha Pfeiffer
A print and broadcast journalist, Sacha Pfeiffer is a member of the Boston Globe Spotlight Team, which won the 2003 Pulitzer Prize for Public Service for its stories on the Catholic Church's cover-up of clergy sex abuse. That reporting is the subject of the Oscar-winning movie "Spotlight." In more than a decade at the Globe, Pfeiffer has produced numerous investigative series and covered legal affairs, the courts, nonprofits, philanthropy, and wealth, among other topics.
Pfeiffer has also been the host of "All Things Considered" and "Radio Boston" at WBUR, Boston's NPR station, where she won a national 2012 Edward R. Murrow Award for broadcast reporting, and a guest host of NPR's nationally syndicated "On Point" and "Here & Now." Pfeiffer was a 2004–5 John S. Knight journalism fellow at Stanford University and is a co-author of the book Betrayal: The Crisis in the Catholic Church. (www.bostonglobe.com)
---
2017-2018
April Ryan
April Ryan is a reporter, author, and White House Correspondent for The Grio. Ryan is one of only three African Americans to serve on the board of the prestigious White House Correspondents Association, and was named the 2017 Journalist of the Year by the National Association of Black Journalists. She is also an esteemed member of the National Press Club. Ryan is the author of the award-winning book, The Presidency in Black and White, and At Mama's Knee: Mothers and Race in Black and White.
2016-2017
Katherine Boo
Katherine Boo is a Pulitzer Prize-winning investigative journalist who has documented the lives of people in poverty. A former reporter and editor for The Washington Post, she has been a staff writer for The New Yorker magazine since 2003. Her book Behind the Beautiful Forevers: Life, Death and Hope in a Mumbai Undercity won the National Book Award for Nonfiction in 2012, among others. Boo was named a MacArthur "Genius Grant" fellow in 2002. A series she wrote for the Washington Post on the treatment of the mentally disabled in D.C. earned a Pulitzer Prize for Public Service in 2000.
2015-2016
Ta-Nehisi Coates
Ta-Nehisi Coates is a national correspondent for The Atlantic, where he writes about culture, politics, and social issues. He is the author of The Beautiful Struggle and the New York Times bestseller Between the World and Me, for which he won the 2015 National Book Award for nonfiction. A MacArthur "Genius Grant" fellow, Coates has received the National Magazine Award, the Hillman Prize for Opinion and Analysis Journalism, and the George Polk Award for his Atlantic cover story "The Case for Reparations."
---
2014-2015
Aaron Henkin
Aaron Henkin is co-creator and producer of The Signal on WYPR. His work has aired nationally on NPR's Morning Edition and All Things Considered, PRI's Studio 360 and The World, and APM's The Story. Aaron is also creator, producer, and host of the Smithsonian Folkways Recordings radio series, Tapestry of the Times.
---
David Maraniss
2013-2014
David is an American journalist and author, currently serving as an associate-editor for The Washington Post. He received a Pulitzer Prize for National Reporting in 1993 for his coverage of then-candidate Bill Clinton during the 1992 United States presidential election.
---
2012-2013
Frank Bond
Frank is a 23-year veteran of television news. He's producer for the Newseum and The Freedom Forum, a nonpartisan foundation that champions the First Amendment.
---
2011-2012
Panel Discussion
With a special focus on Baltimore news, Susan Weintraub and Peter Warren moderated a panel discussion with three local journalists. Panelists include:
Deborah Weiner '82, Anchor and Reporter, WBAL-TV
Steve Young, News Editor, The Baltimore Sun
Fern Shen, Founder and Editor, Baltimore Brew
---
2010-2011
Helene Cooper
White House correspondent for The New York Times.
---
2009-2010
Josh Tyrangiel '90
Editor of Bloomberg BusinessWeek and former deputy managing editor of Time magazine, where he oversaw Time.com.
---
2008-2009
Alix Spiegel '89
A graduate of Park School and a reporter with NPR's National Desk, covering social policy.
---
2007-2008
Bill McKibben
Environmentalist, educator and author of The End of Nature and Enough.
---
2006-2007
Ed Burns
Emmy Award-winning television writer. Creator of The Wire and The Corner. Burns is a former Baltimore detective and public school teacher and often draws upon these experiences for his writing.
---
2005-2006
Seymour Hersh
Contributor to The New Yorker and author of Chain of Command: The Road from 9/11 to Abu Ghraib.
---
2004-2005
Mark Crispin Miller
Director of the Project on Media Ownership at New York University and author of Boxed In: The Culture of TV.
---
2003-2004
Walt Handelsman '75
Park School Graduate and two-time Pulitzer Prize Winner; Editorial Cartoonist for Newsday.
---
2002-2003
Dee Dee Myers
Former Press Secretary to President Clinton.
---
2001-2002
Frank Rich
Op-Ed Columnist and former Drama Critic for The New York Times.
---
2000-2001
Dudley Clendinen
Member of the Editorial Board, The New York Times
---
1999-2000
John Eisenberg
Baltimore Sun Sports Section.
---
1998-1999
Howard Fineman
Senior Editor and Chief Political Correspondent for Newsweek.
---