Peter Baida '68 Writer-in-Residence
The Writer-in-Residence program was established in memory of Peter Baida, a member of Park's Class of 1968. His nine story collection, A Nurse's Story, includes the first-prize winner in the 1999 O. Henry Awards. The award-winning title story, a revelation of a dying nurse's memories, is but one of his close-up explorations of moral and ethical dilemmas and the impact of individual choices on society.
Peter Baida also wrote Poor Richard's Legacy: American Business Values from Benjamin Franklin to Donald Trump, and was published in The Gettysburg Review, American Literary Review, The New York Times, American Heritage, and The Atlantic Monthly.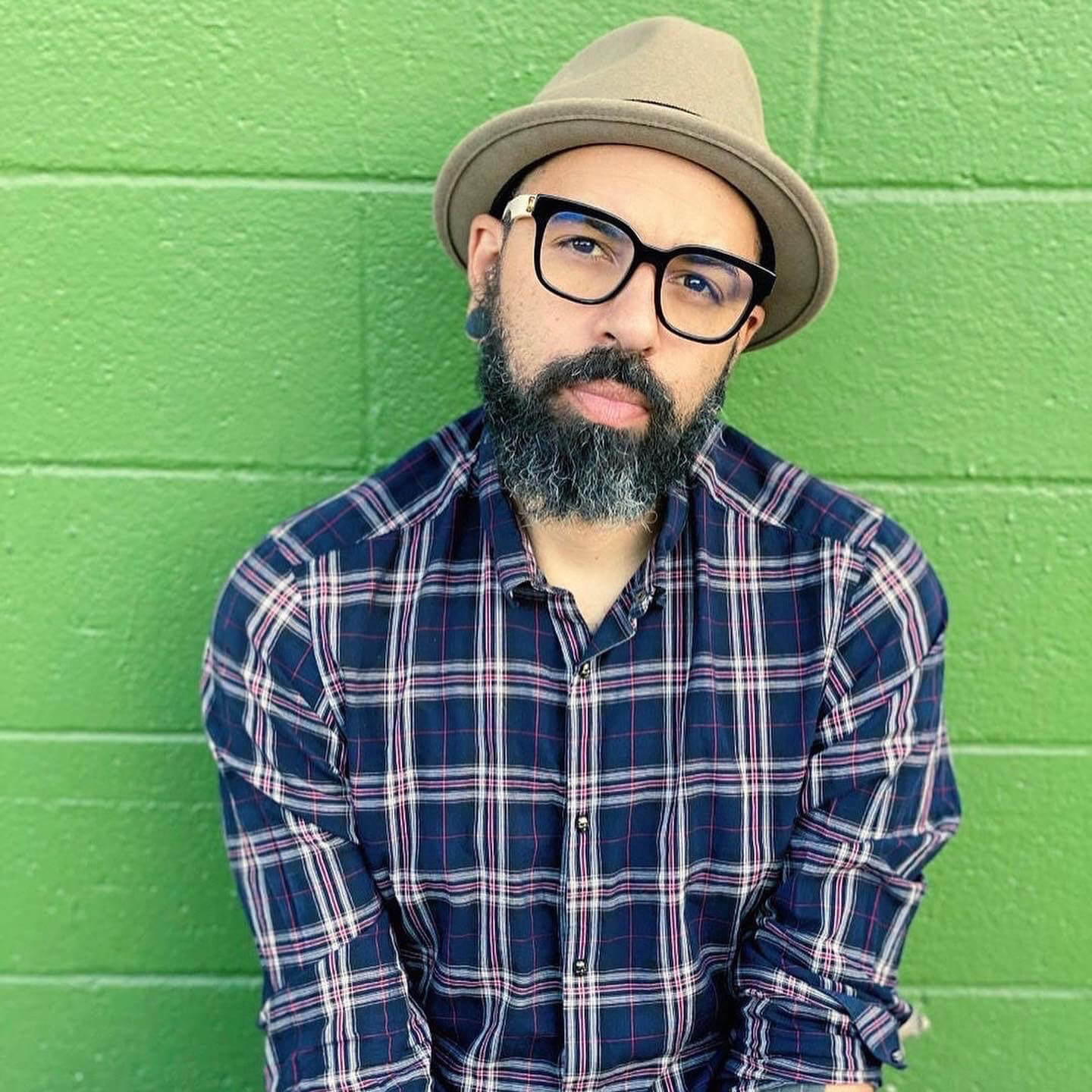 2022-2023
James Spooner
James Spooner is a graphic novelist, filmmaker, and tattoo artist. His award winning debut graphic novel, The High Desert (Harper) was named "Best of 2022" by Publishers Weekly, The Washington Post and The New York Public Library. The High Desert is the 2023 recipient of the American Library Association's Alex Award. Spooner recently co-edited an anthology of Black punk writers and comic creators entitled, Black Punk Now. The book will be published Oct 31, 2023 with Soft Skull Press. He is also a regular contributor to RazorCake Magazine.
Spooner directed the seminal documentary Afro-Punk, which premiered at national and international film festivals, including Toronto International and The American Black Film Festival. James also co-founded the AfroPunk Festival, which currently boasts audiences in the hundreds of thousands around the world.
Spooner's work has been recounted in various publications, including NPR, The Los Angeles Times, Vice, The Village Voice, The New Yorker, MTV, NBC News, and Variety. He was a recipient of the ReNew Media Rockefeller Grant. He is an ongoing guest curator for the Broad Museum in Los Angeles and previously programmed for the Brooklyn Academy of Music.
James continues to screen Afro-Punk around the world, giving talks on punk and Black identity.
---
Past Writers-in-Residence
2021-2022
Monica West
West is the author of Revival Season (2021), which received numerous accolades. We were lucky to have Ms. West as a member of our Upper School faculty from 2006-2011.
Born and raised in Cleveland, Ohio, West spent her early years reading everything that she could. Her love for reading and writing drove her to get her B.A. in English Literature from Duke University and her M.A. in English and American Literature from New York University.
While working in trade and educational publishing in New York, West participated in writing workshops at the Frederick Douglass Creative Arts Center and at Sackett Street Writers' Workshop. Later, she shifted careers and became a high school English teacher in Baltimore and San Francisco. During her time at the Squaw Valley Community of Writers and the Napa Valley Writers' Conference, she started to take her writing more seriously and never looked back. She received her MFA in Fiction from the Iowa Writers' Workshop where she was a Rona Jaffe Graduate Fellow. She has also received a fellowship from Kimbilio Fiction and a residency from Hedgebrook. She currently lives in Oakland, California, where she is reading everything that she can get her hands on, teaching fiction writing at the University of San Francisco, and writing another novel.
---
2019-2020
Steph Cha
Cha is the author of Your House Will Pay and the Juniper Song crime trilogy. Your House Will Pay tells the fictionalized story of Soon Ja Du's Korean family decades after her killing of Black teenager Latasha Harlins in South Los Angeles. The incident is linked to racial tensions between the Black and Korean communities and the 1992 Los Angeles riots.
Having grown up in Los Angeles, Cha says she wanted to explore the tensions she'd always heard about, but rarely experienced, between her own Korean community and the Black community. She says she continues to see connections between her book and the present.
"During the riot [in Baltimore after Freddie Gray's death], Korean businesses were also targeted, and a lot of the resentments that were expressed, they could have come right out of early '90s Los Angeles," Cha told NPR's 'All Things Considered.' "I kept thinking: This is not about the past at all — this is about right now."
Cha earned a bachelor's degree in English and East Asian Studies from Stanford University, then attended Yale Law School. She has since returned to her hometown of Los Angeles.
---
2018-2019
Safia Elhillo
Elhillo is the author of The January Children (University of Nebraska Press, 2017), recipient of the 2016 Sillerman First Book Prize for African Poets and a 2018 Arab American Book Award.
Sudanese by way of Washington, D.C., she holds a B.A. from NYU's Gallatin School of Individualized Study and an M.F.A. in poetry from the New School. Elhillo is a Pushcart Prize nominee, receiving a special mention for the 2016 Pushcart Prize. She was co-winner of the 2015 Brunel International African Poetry Prize, and listed in Forbes Africa's 2018 "30 Under 30."
Her fellowships and residencies include Cave Canem, The Conversation, SPACE on Ryder Farm, and a 2018 Ruth Lilly and Dorothy Sargent Rosenberg fellowship from The Poetry Foundation. Safia's work appears in POETRY Magazine, Callaloo, and The Academy of American Poets' Poem-a-day series, among others, and in anthologies including The BreakBeat Poets: New American Poetry in the Age of Hip-Hop and Women of Resistance: Poems for a New Feminism.
Her work has been translated into Arabic, Japanese, Estonian, Portuguese, Slovenian, and Greek, and has been commissioned by Under Armour and the Bavarian State Ballet. With Fatimah Asghar, she is co-editor of the anthology Halal If You Hear Me (Haymarket Books, 2019). Elhillo has shared her work on platforms such as TEDxNewYork, the BBC World Service, the South African State Theatre, and Red Bull's Frontiers. (https://safia-mafia.com/bio)
---
2016-2017
Valeria Luiselli
Luiselli is the author of Sidewalks (2014), a book of essays, and the internationally acclaimed novel Faces in the Crowd (2014), which won the Los Angeles Times Art Seidenbaum Award For Fiction. Her most recent novel, The Story of My Teeth, published in 2015, was a finalist for the National Book Critics Circle Award and the Best Translated Book Award, and won the Los Angeles Times Prize for Best Fiction. Luiselli's fiction and non-fiction pieces have appeared in The New York Times, Granta, McSweeney's, and the New Yorker. She writes in both Spanish and English, and her work has been translated into more than 20 languages.
Named one of the 20 best Mexican writers under 40, Luiselli has also received a National Book Foundation '5 under 35' award. Her latest book, Tell Me How It Ends: An Essay in 40 Questions, explores the experiences of immigrant children as they travel to the United States seeking citizenship.
---
2015-2016
Jess Row '93
An award-winning author, Jess Row '93 was named a "Best Young American Novelist" in 2007 by Granta. Author of The Train to Lo Wu, Nobody Ever Gets Lost, and Your Face in Mine. His stories have appeared in The Atlantic, Tin House, Conjunctions, Boston Review, Ploughshares, Granta, American Short Fiction, Threepenny Review, Ontario Review, Harvard Review, and elsewhere. Winner of two Pushcart Prizes and a PEN/O. Henry Award, and recipient of an NEA fellowship in fiction and a Whiting Writers Award.
---
2013-2014
Sam Baker
Songwriter.
"Life is a gift. I went through a lot of bitterness – a lot of anger. But those things are toxic. Gratitude for what remains is more helpful than resentment for what was lost. Ultimately, I came to understand that these days are wicked short and terribly beautiful. All I've got—no matter what I hold in my hands, drive around in, or put in the bank—all I've got is this one breath, and if I'm lucky, I get another."

Sam Baker
---
2012-2013
Laura Amy Schlitz
Author of children's literature. 2008 Newbery Medal recipient for Good Masters! Sweet Ladies! Voices from a Medieval Village (2007) and the author of the 2013 Newbery Honor Book Splendors and Glooms (2012), among others. A beloved librarian and storyteller at Park, we were pleased to name Laura our Writer-in-Residence during this, our Centennial year.
---
2011-2012
Campbell McGrath
American poet. Recipient of a MacArthur Foundation Fellowship (a.k.a. Genius Grant), a Guggenheim Fellowship, a Witter Bynner Fellowship from the Library of Congress, and is a Professor at Florida International University. Received many awards for his books of poetry American Noise (1994), Florida Poems (2002), Seven Notebooks (2007), In the Kingdom of the Sea Monkeys (2012).
---
2010-2011
Justin Kramon '98
A graduate of The Park School of Baltimore (1998) and Iowa Writers' Workshop, Justin Kramon has published stories in Glimmer Train, Story Quarterly, Boulevard, Fence, TriQuarterly, and others. He has received honors from the Michener-Copernicus Society of America, Best American Short Stories, the Hawthornden International Writers' Fellowship, and the Bogliasco Foundation. He teaches at Gotham Writers' Workshop in New York City and at the Iowa Young Writers' Workshop. (goodreads.com). While at Park, he read from his debut novel, Finny (2010).
---
2009-2010
Andrei Codrescu
Poet, novelist, essayist. Codrescu has been a regular commentator on National Public Radio's news program, All Things Considered, since 1983. He won the 1995 Peabody Award for the film Road Scholar, an American road saga that he wrote and starred in, and is a two-time winner of the Pushcart Prize. He has been called "one of our most magical writers" by The New York Times. While at Park, Codrescu shared recent NPR essays and recent essays from New Orleans, Mon Amour.
---
2007-2008
Li-Young Lee
Poet and author of Rose (1986), The City In Which I Love You (1990), The Winged Seed: A Remembrance (1995), The Book of My Nights (2001). Lee's poems have received many honors, including a Lannan Literary Award, a Whiting Writer's Award, two fellowships from the National Endowment for the Arts, and a Guggenheim Fellowship.
---
2006-2007
Theresa Rebeck
Writer for the stage, television, and film. Awarded a Mystery Writers of America Edgar Award and a Writers Guild of America Award for Episodic Drama for NYPD Blue. Her new play The Scene, starring Patricia Heaton and Tony Shaloub, opened in New York in January 2007. For her work on Omnium Gatherum (2003), co-written with Alexandra Gersten-Vassilaros, she was a finalist the Pulitzer Prize for Drama. Wrote the radio play Ten After Eleven, a play inspired by the Kitty Genovese murder. Screenwriting credits include Catwoman and Harriet the Spy.
---
2005-2006
McKay Jenkins
Professor of English at University of Delaware, journalist and scholar of American literature. His books include Bloody Falls of the Coppermine: Madness and Murder in the Arctic Barren Lands (2005), The Last Ridge: The Epic Story of America's First Mountain Soldiers and the Assault on Hitler's Europe (2003), and The White Death: Tragedy and Heroism in an Avalanche Zone (2000).
---
2004-2005
Jess Row '93
Row is a 2004 National Endowment for the Arts Literary Fellow and award-winning short story writer. His short story, "The Secrets of Bats," earned a Pushcart Prize and is included in The Pushcart Prize XXVI and in The Best American Short Stories 2001. "Heaven Lake" appears in The Best American Short Stories 2003.