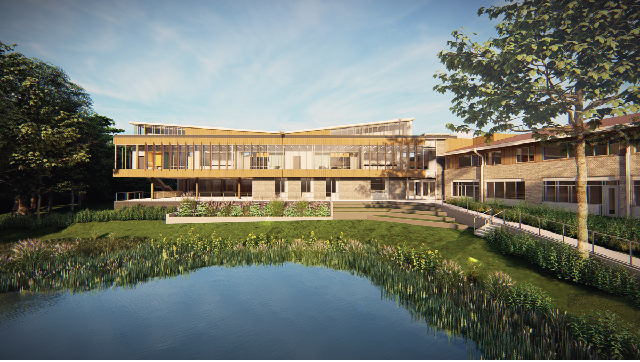 12,500 sq. ft. Building Slated for Completion by Fall 2023
---
With its expected completion by the fall of the 2023 school year, the new Science and Engineering Wing will add over 12,500 square feet of state-of-the-art learning/meeting/collaborating/making space to our facilities.
This is just the beginning of one of the most ambitious projects in the school's history — creating new spaces and improving existing spaces in support of 21st century learning. This new building is the first step in our multi-phase process — fulfilling the need for larger, dynamic modernized Upper School science and engineering spaces — with more news to come regarding plans for renovations to existing buildings and other initiatives in support of Park's future.
In addition to the purpose-built, flexible science and engineering laboratories central to the Science and Engineering Wing, a number of features will distinguish the new building, as well as integrate it into our overall campus design:
Interior and exterior spaces designed to support collaboration and integration among the scientific disciplines. Our science faculty looks forward to the possibilities for "cross-pollination" among the scientific disciplines that the new building will allow, encourage, and inspire.
Interior and exterior layout/design to improve access to both new and existing campus functions

Mobility among levels, pathways, ingress, and egress.
Connection to, and integration with, the main building and the Athletic Center creating ready access and easy flow among the structures; new accessibility to the building through the west side of campus.
Ready access to new outdoor learning spaces, pond, stream, and woods. The faculty foresees enhanced connection to already ongoing campus field study and longterm research projects.

Incorporated sustainable design strategies including solar panels, energy-efficient mechanical equipment, low-flow plumbing, and more. The building will achieve Net-Zero energy efficiency, generating at least 100 percent of its energy requirements. The site location, a previously developed space, was chosen in order to minimize impact and preserve our campus greenspace.The principles that support the building's sustainable operations link to the science and engineering programming in the building itself, providing opportunities for research, observation, and curricular connections on into the future. Our students will have the opportunity to connect with the designers of the building, as well as the construction managers.
Our science faculty has been an integral part of the planning process for the new wing, and with the building's designers, has helped create a structure that will support their engaging, inquiry-based, expanding curricula.
Additional square footage will allow for both longterm and large scale science and engineering projects, and includes dedicated engineering and robotics space
Ready access to outdoors will facilitate engagement in on-campus field study
The building will serve as a hub for on-campus field study, longterm research projects (e.g. cancer cell studies), and longitudinal studies conducted in Park's ISAMR (International Student-led Arctic Monitoring and Research) program
High visibility of longterm science and engineering projects will provide inspiration across science disciplines; will create collaborative opportunities between and among students and faculty; and will engage learners from across all three divisions
As the project moves ahead, we look forward to sharing even more details as well as updates on progress. It is an exciting new chapter in our school's history! Thanks to all who are making it possible!

For more information about the new building (including FAQ) and Park's campus plan, please click here.

To see photos of the Groundbreaking Ceremony, click here.
Back to The Latest
Share
Related Posts
Fifteen Park Students Named All-Conference for Spring Season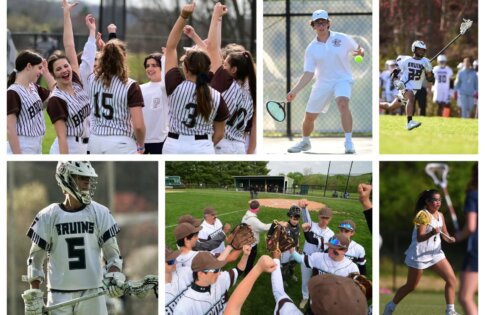 Fifteen Park students were named IAAM and MIAA All-Conference players this 2023 spring season! Congratulations to our players, coaches, families, and athletic directors — and thank you for your amazing...
Upper School Ceramics Club Raises Scholarship Funds for Arts for Learning Maryland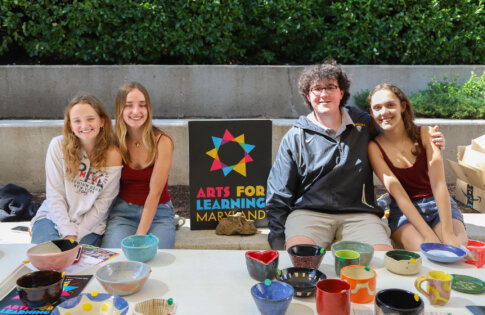 Members of the Ceramics Club, an Upper School co-curricular activity, recently hosted a pottery sale for attendees of the All School arts show reception, selling pieces they had made. Club...