Park's Campus Plan
LOOKING TO THE FUTURE

I am excited to share news about the future of Park's campus — including news about our new Science and Engineering Wing — and the ways that our plans will support our students, faculty, and the Park School mission for years to come. Please read on, and watch this space for additional news and details.

— Dan Paradis, Head of School
---
The New Science + Engineering Wing
Park School broke ground on a new Science and Engineering Wing in the summer of 2022 — with a school-wide groundbreaking celebration on Brown and White Day in October!
With its expected completion by the beginning of the 2023 school year, the building will add over 12,500 square feet of state-of-the-art learning/meeting/collaborating/making space to our facilities.
This is just the beginning of one of the most ambitious projects in the school's history — creating new spaces and improving existing spaces in support of 21st century learning. This new building is the first step in our multi-phase process — fulfilling the need for larger, dynamic modernized Upper School science and engineering spaces — with more news to come regarding plans for renovations to existing buildings and other initiatives in support of Park's future.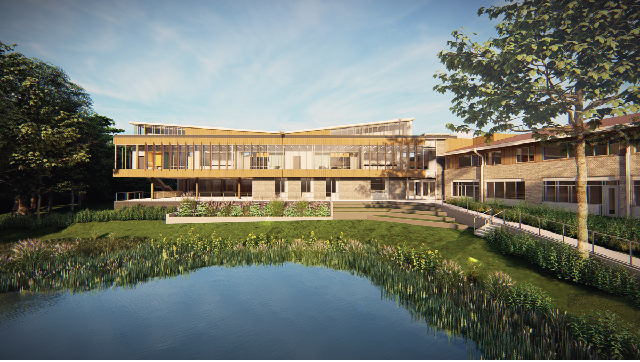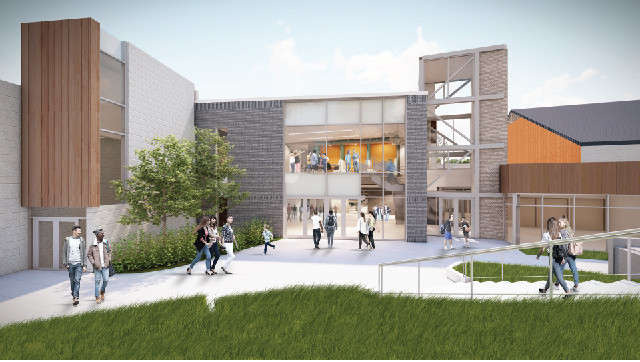 Science + Engineering Wing Fast Facts:
Square Footage:
---
Purpose-Built Spaces:
Physics, chemistry, biology laboratories; engineering and robotics spaces; outdoor classroom; collaborative shared spaces
---
Energy Efficiency:
Net-Zero
---
Integration with Existing Buildings:
Connections with main building and Athletic Center
---
Groundbreaking:
Summer 2022
---
Expected Opening:
Fall 2023
---
DESIGNER:
Hord Coplan Macht
---
Construction Manager:
Southway Builders
---
In addition to the purpose-built, flexible science and engineering laboratories central to the Science and Engineering Wing, a number of features will distinguish the new building, as well as integrate it into our overall campus design:
Interior and exterior spaces designed to support collaboration and integration among the scientific disciplines. Our science faculty looks forward to the possibilities for "cross-pollination" among the scientific disciplines that the new building will allow, encourage, and inspire.
Interior and exterior layout/design to improve access to both new and existing campus functions

Mobility among levels, pathways, ingress, and egress.
Connection to, and integration with, the main building and the Athletic Center creating ready access and easy flow among the structures; new accessibility to the building through the west side of campus.
Ready access to new outdoor learning spaces, pond, stream, and woods. The faculty foresees enhanced connection to already ongoing campus field study and longterm research projects.

Incorporated sustainable design strategies including solar panels, energy-efficient mechanical equipment, low-flow plumbing, and more. The building will achieve Net-Zero energy efficiency, generating at least 100 percent of its energy requirements. The site location, a previously developed space, was chosen in order to minimize impact and preserve our campus greenspace.The principles that support the building's sustainable operations link to the science and engineering programming in the building itself, providing opportunities for research, observation, and curricular connections on into the future. Our students will have the opportunity to connect with the designers of the building, as well as the construction managers.
---
Our science faculty has been an integral part of the planning process for the new wing, and with the building's designers, has helped create a structure that will support their engaging, inquiry-based, expanding curricula.
Additional square footage will allow for both longterm and large scale science and engineering projects, and includes dedicated engineering and robotics space
Ready access to outdoors will facilitate engagement in on-campus field study
The building will serve as a hub for on-campus field study, longterm research projects (e.g. cancer cell studies), and longitudinal studies conducted in Park's ISAMR (International Student-led Arctic Monitoring and Research) program
High visibility of longterm science and engineering projects will provide inspiration across science disciplines; will create collaborative opportunities between and among students and faculty; and will engage learners from across all three divisions
As the project moves ahead, we look forward to sharing even more details as well as updates on progress. Please keep an eye on this space! It is an exciting new chapter in our school's history! Thanks to all who are making it possible!
---
Click the tabs below for SCIENCE AND ENGINEERING WING FAQS and information about our campus planning process.
FAQs
An Upper School science and engineering wing…why this particular project?
Our campus planning process highlighted a number of needs — and larger, dynamic, modernized Upper School science and engineering spaces were at the top of the list. In addition to the new, purpose-built spaces the wing will provide, the entire school population will benefit from the addition of the square footage as space pressure is taken off the rest of building.
Are there other projects that are part of the campus improvement plan?
The new Science and Engineering Wing is an important first step in the multi-phase plan for the future of Park's campus. The addition of the new square footage will expand the availability of space and allow for the realization of new possibilities within the main building. We will be able to plan for significant renovations to the existing footprint of our Middle and Upper Schools. As these renovation plans come together, we continue to apply same standards for flexible, state of art, sustainable design that supports the needs of our students, faculty, and educational mission. More details on these plans are to come.
Are there other priorities in addition to physical plant improvements?
In support of inquiry, innovation, and inclusivity, Park is committed to hiring, retaining, and developing the best teaching faculty; creating a diverse, equitable, and inclusive community — student body and workplace; providing dynamic arts and athletics programs for our students; nurturing social emotional learning across all grade levels; and providing a robust tuition assistance program to ensure access to all that Park has to offer. In support of that commitment, the school is particularly mindful of the need to continue to build our endowment. Therefore, whatever work we do to address the physical needs of our campus includes the ongoing work of building endowment in order to support all of the programming that is essential to Park School's identity and mission.
Along with purpose-built science and engineering spaces, what other types of spaces are incorporated into the design?
Inside and out, we are constructing spaces for students and faculty to come together. This includes "collaboration spaces," as well as communal areas such as the amphitheater-style seating pictured in front of the new building at the edge of the pond. Hallways and pathways will lead to areas where students can come together for planned activities, as well as spontaneous interaction.
How is the new Science and Engineering Wing being funded?
A small number of donors have come forward to support this project. We are grateful for their generous and passionate support, and we are pleased to share that the building will be fully funded through their donations.
Who designed the building?
The building design and planning for main building renovations and updated community spaces have been developed by the national architecture firm, Hord Coplan Macht (HCM). HCM has significant experience working with K–12 schools around the country; their projects demonstrate responsiveness to research, learning philosophy, community, and the learners themselves. Founded here in Baltimore by two Park alumni — Lee Coplan '69 and Carol Macht '69 — HCM shares a lived understanding of the Park mission and maintains a strong connection to our school community.
Our building partner, Southway Builders, also has a great deal of experience working with K–12 schools. They were selected, in part, due to their success in managing construction projects on active school campuses and for their thoughtful/intentional approach to the safety of the school community.
How was the site for the new building chosen?
As stewards of this 100-acre campus, we've selected a site location that is previously developed space in order to minimize impact and preserve our campus greenspace. Further, the opportunity to connect our buildings (the Athletic Center, Science and Engineering Wing, and main building) will enhance accessibility in and around our learning spaces.
What are the central sustainable design elements incorporated into the new building?
Sustainable design elements throughout the wing will include solar panels, an enhanced high-efficiency HVAC system, occupancy sensors, upgraded exterior glass, variable volume fume hoods in all science labs, and more. The building site has been selected to preserve greenspace; the new wing will be built on previously impervious land. The building will achieve Net-Zero energy efficiency.
Throughout the construction process and once the building is operational, our faculty will be referencing the building as a real-world teaching tool about sustainable practices — including energy generation, materials selection, water diversion and treatment, and more.

What type of impact will the project have on school life over the span of construction?
Construction of the new Science and Engineering Wing is expected to span July 2022 – August 2023. Getting the work going as soon as possible after the 2022 school year will allow us to maximize the available summer time. The firms that we are working with to bring the project to fruition — HCM Architects and Southway Builders — are experienced working in K–12 settings and, with the school, are planning detailed steps to minimize impact and disruption of the school program during the academic year. The Athletic Center will remain accessible for the duration of the project, and it should be noted that any summer work is not expected to interfere with Park Camps' access to the swimming pool or Athletic Center.
If I have questions about the new Science and Engineering Wing or the overall campus plan, who should I ask?
With any questions or comments about the Science and Engineering Wing or campus plan, please write to campusplan@parkschool.net, and we will work to get you a response.
Park's Campus Plan – Overview
Over the course of the last several years, the school has been looking closely at how to best plan for the future. This work has been guided by an in-depth campus planning process that has provided tools for us to envision what the Park School of the future could and should look like to best support our students, faculty, and our mission. In addition to engaging in critical assessments of our current buildings and campus spaces, we have brought together students, faculty, parents, and alumni to delve into, and reflect upon, the essence of a Park School education. This work has informed a plan that addresses important space needs on campus, prioritizes mission-aligned goals, and supports the longterm stewardship of our unique learning environment.
Park's last significant campus plan was implemented beginning in 1993 and took 10 years to complete. The scope included the Morton K. Blaustein '44 Center providing Middle and Upper School classrooms (1996), the Athletic Center and Lucille and Gordon Sugar Campus (2001), and the Wyman Arts Center (2003). The effort to raise funds, design, break ground, and complete these projects was a significant undertaking and, while we enjoy the results of that plan today, it is important to understand the long-term nature of this type of work and that it can only be completed in phases.
Other enhancements to the campus have been fulfilled in recent years, including the installation of the state-of-the-art Astroturf on Kelly Field; our cafeteria renovation; the redesign of the Kindergarten playground; the redevelopment of the Sugar Campus baseball/softball diamond to NCAA competition standards; and the renovation of our Admission office to welcome prospective families at the front of school. The restoration of Park's stream, undertaken just a few years ago, was a project that was emblematic of the integration of environmental responsibility, learning opportunities, and vision for the future that is the signature of so many of our campus projects. We are proud to carry the same ethos and commitment to stewardship into this new phase of campus development.
Growing out of the school's recent campus planning process and in keeping with our commitment to keeping students at the center of all of our planning, this next major improvement effort prioritizes the following:
Creating modern, expanded, multi-functional science and engineering spaces
Incorporating student gathering spaces — both interior and exterior — that support connection and collaboration
Prioritizing environmental sustainability
Ensuring accessibility — promoting ease of access to the physical spaces, inside and out, and greater inclusivity in participation in science and engineering programs
Questions about Park's Campus Plan? Write to campusplan@parkschool.net, and we will work to get your questions answered.