Video: Baltimore Ravens Award "Honor Rows" to PaL Partnership During 2014 Season Opener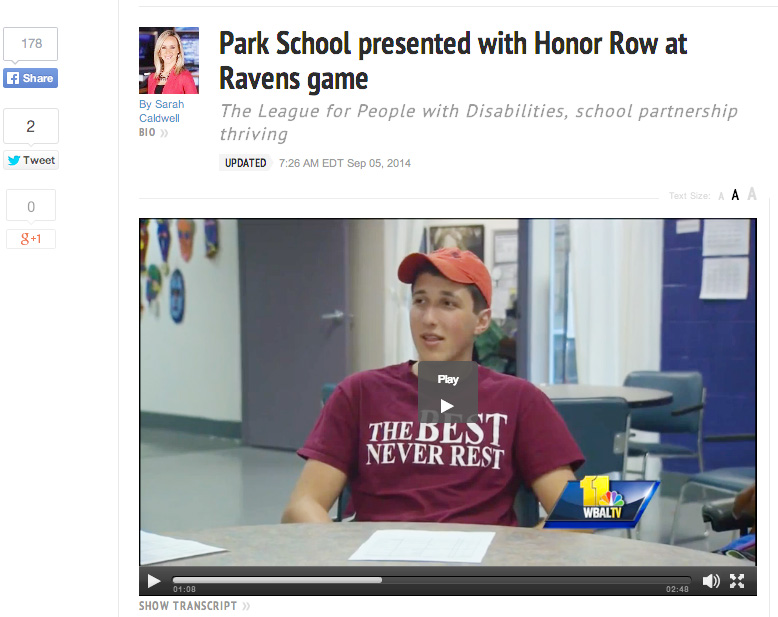 WBAL broadcast this story (click here) about Park student Drew Meyer and his PaL partnership! Congratulations to Drew, his fellow PaL members — and thanks to the Ravens for the recognition of PaL's meaningful work!
Read this press release from The League for People with Disabilities:
BALTIMORE, MD – The PaL Partnership, a volunteer program created by Park School students at The League for People with Disabilities, will be recognized by the Baltimore Ravens with its inaugural 2014-15 season "Honor Rows" award during the team's opener Sunday, September 7.
The PaL (Park and League) Partnership is one of a handful of youth volunteer initiatives to be selected for the honor from among hundreds of volunteer groups nominated from throughout the state of Maryland. Nominated by The League and chosen by the Baltimore Ravens along with representatives from M&T Bank and the Governor's Office on Service and Volunteerism, it is one of the highest honors bestowed on a volunteer youth group state-wide.
The youth-run leadership program, founded by Park student Drew Meyer with fellow students Alex Kalvar, Matt Abrams, Jeff Jordan, Jason Gelblum, Matt Keiser, Alex Wetzler, and Jack Sheehy, with supervision from Park School Assistant Athletic Director Dia Clark '06, was chosen for one of the prestigious Baltimore Ravens awards for its year-long commitment to participants (adults with disabilities) at The League. The students have volunteered at The League, advocated for people with disabilities, and raised more than $10,000 to create a scholarship to the League's Camp Greentop in western Maryland.
About The League
The League for People with Disabilities offers Adult Medical Day services, Autism Services & Programs (ASAP), Camping and Therapeutic Recreation, Career Services and Day Habilitation for more than 2,000 children and adults with disabilities in the region. For more information about The League visit http://www.leagueforpeople.org.
Photo below: Drew and his parents at the pre-game Honor Rows celebration.
Back to The Latest
Share
Related Posts
Park's Mock Trial Team Wins Maryland State Championship!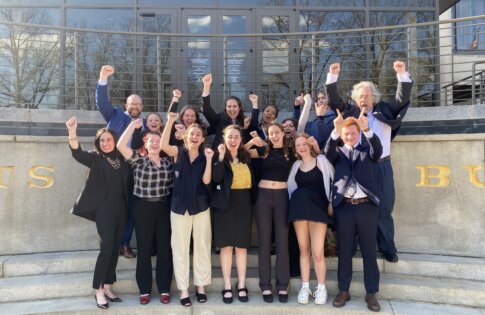 Park's Mock Trial team won its sixth (!) State Championship on Monday afternoon, in a hard-fought trial against Allegany High School. Congratulations to every member of the team and to...
Park's 2020-21 Mock Trial Team Featured in Baltimore Style Magazine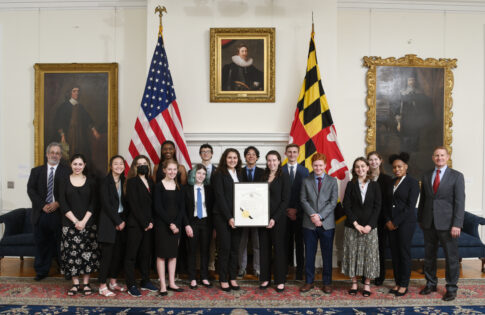 Park's National Champion Mock Trial Team was featured in November's issue of Baltimore Style magazine. The 2020-2021 Maryland State Champion Park School Mock Trial team was the first Maryland team in...
Senior Becca Frank Named IAAM Athlete of the Week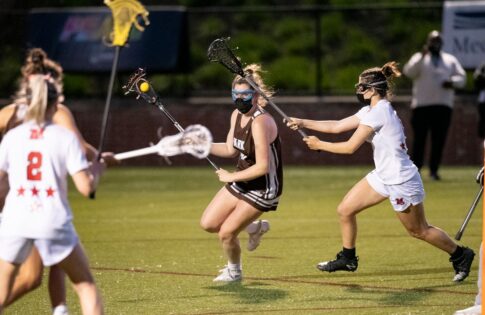 Congratulations to senior Becca Frank on being named the Interscholastic Athletic Association of Maryland's (IAAM) Athlete of the Week! Becca is heading to American University in the fall and will...