The Michael Cardin '85 Writing Center Moves to a New Space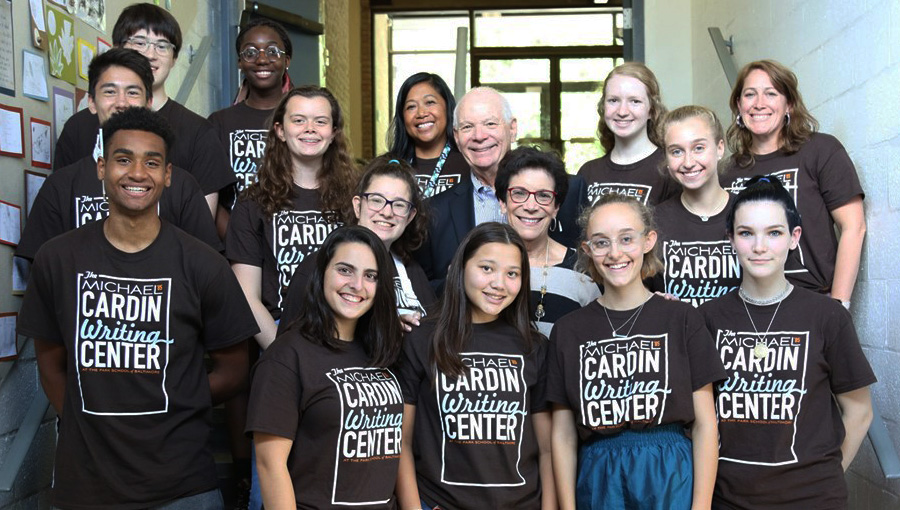 Today was the grand opening of a new space for the Michael Cardin '85 Writing Center. Senator Ben and Myrna Cardin joined us for the occasion as the center was founded in 1998 in memory of their son Michael and his love of writing. "Michael and I were editors-in-chief of The Postscript together," says Director of Development Roger Seidenman '85. "His editorials were always beautifully written, forward thinking, and provocative. He loved writing, and he was very effective at communicating that way."
During the center's first year, the school hired a doctoral candidate at Johns Hopkins University (and founder of Hopkins's Writing Center) to tutor Park students one-on-one. But early on, "emerging out of the very Park-like belief that students can sometimes teach each other as well as teachers can," wrote former English teacher and writing center director Kevin Coll, a new model was created in which the center was staffed by trained peer tutors.
Today, eager juniors and seniors sign up for the semester elective Writing Practicum, an intensive writing course that is also about the teaching of writing, led by center director and Upper School English teacher Angela Balcita. Students learn techniques of effective peer tutoring through reading, discussion, role-play, and plenty of practice. They write and revise all types of written works, focus on the process of writing, and visit Lower, Middle, and Upper School classrooms. "When I was in fourth grade, my class had Upper School writing tutors through the writing center," says current tutor Katie Gilbert '20. "I remember knowing back then that I wanted to do that when I was older, and it's been such a rewarding experience for me to be able to help others with writing. My favorite thing is when I can tell that I've helped someone get to a place where they can be proud of the work they've done. I hope the center helps Park students become more confident in their writing."
After completing Writing Practicum, these students serve for the rest of their Park careers as tutors in the writing center, working with peers from all grades about any writing concerns, including brainstorming, reading aloud, using details, developing description, examining sentence structures, and playing with word choice. Tutors don't simply act as editors – during each tutoring session, a trained peer-tutor collaborates with the tutee to help meet their individual writing needs. Tutors try to talk to students about their writing process, ask good questions, and provide them with strategies that they can use in the future. "We're hoping that by creating a space staffed by trained peer tutors, we are making writing help free and accessible to everyone," says Balcita. "Destigmatizing the idea of 'tutoring' will hopefully allow everyone to come in and talk about their work."
The center is now located in room 233 (the old Parents' Association office), providing a welcoming and quiet place to work with access to laptops, a printer, pens, paper, whiteboards, and graphic organizers. Students can schedule an appointment or drop by during open hours.
Back to The Latest
Share
Related Posts
Experience Park: An Open House Event on October 7
Our "Experience Park" event introduces prospective families to Park's remarkable teaching and learning community (watch the video!) — and features interactive sessions for students and their parents.
Park Students Return to Campus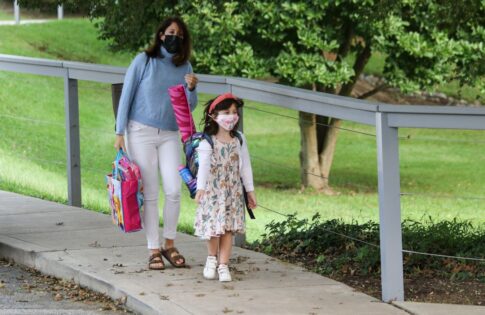 While Park students began the school year in an all-distance learning format due to the prevalence of COVID-19 in the greater Baltimore area, the school was able to begin a...