Park Sophomore Kendall Clark recently received a Templeton-Ramanujan Prize for Scholarly Development. Clark was invited to the White House complex last month to attend a showing of The Man Who Knew Infinity, a new film about Srinivasa Ramanujan, an Indian mathematician who made extraordinary discoveries in the field despite having no formal training. Professor Ken Ono of Emory University founded the Spirit of Ramanujan initiative, which works to identify young people with an extraordinary aptitude for math who may not otherwise get the chance to showcase their talents.
Park math teacher Dr. Katherine Socha nominated Clark for the award after speaking with Professor Ono following a Mathematical Association of America (MAA) lecture that he had given. Dr. Socha mentioned how, as a 9th Grader new to Park in her first two months of school, Clark studied combinatorics and derived a binomial coefficient. "I told him how advanced Kendall was in terms of reasoning, insight, and inventiveness, and her willingness to sit with a problem and be stuck on it for weeks and weeks; she really enjoyed the process," Dr. Socha said.
Professor Ono suggested that Dr. Socha nominate Clark for the program, and was amazed by her application. "The maturity with which she wrote her essay meant I had to follow up," Ono told USA Today. "She's proving theorems on her own. Imagining theorems. And that's just so unusual that we had to give her a prize," he said.
At the panel discussion preceding the movie, which stars Jeremy Irons and Dev Patel, Professor Ono announced Clark as a recipient of the award, which will allow her to pursue university level research over the summer. Passionate about applied mathematics, Clark said that her love for the subject did not come until last year when her teachers pushed her to think in new ways.
"My first year [in math at Park] was a very formative experience for me in the field because I didn't enjoy math before then," Clark said. "I was good at it, I guess, but it was just a class; I didn't have any passion for it. But, in Dr. Socha's 9th Grade class, I enjoyed the way she allowed us to tinker with problems as opposed to giving us drills and numbers to plug in to get answers. We could figure out the problem from many different points of view and find what worked best for us. If I didn't have that approach, I wouldn't have found the binomial coefficient," she said.
Park's Upper School mathematics curriculum focuses on inquiry and the construction of knowledge as essential elements of each student's educational experience. "Park students perform real math," Dr. Socha said. "They investigate questions and pose their own questions, and use math habits of mind to answer more nuanced questions." In 9th Grade, Dr. Socha worked with Clark outside of class to help her set a goal of accelerating. Now, as a 10th Grader, Clark is taking calculus — a big jump.
In another interview, Clark explained that she now sees math everywhere — whether it's thinking about the volume of a room or the rate at which a pen loses ink when she writes, noting that these complex ideas are not just for the math elites. "I don't think you have to be amazing at math," Clark said. "Anyone can try it, and there shouldn't be a fear that certain people can't do math. You're limiting yourself if you say you can't, because math has a lot of cool applications."
In the coming weeks, Professor Ono will work with Clark and Dr. Socha to coordinate summer research opportunities, allowing Clark to investigate questions that haven't been answered, pose new questions, learn new mathematics techniques, and learn to do math as a mathematician does.
Click here for an article published by USA Today about the event, including an interview with Kendall.
Pictured below: Dr. France A. Córdova, Director of the National Science Foundation; Kendall Clark, Park School Class of 2019; Hannah Larson, Harvard Class of 2017; Dr. Ken Ono, Professor of Mathematics at Emory University and founder of the Spirit of Ramanujan Initiative.
Back to The Latest
Share
Related Posts
A Conversation with Eric Holder — a public event — is scheduled for March 23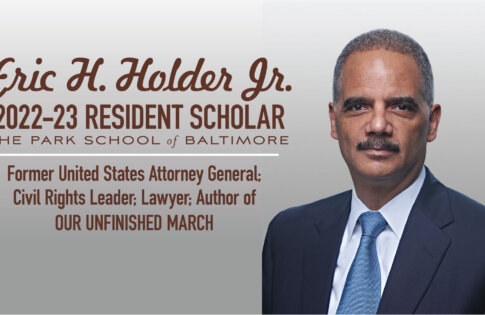 The former U.S. Attorney General to make his second visit to campus this spring
Park Students Honored in the 2023 Regional Scholastic Art & Writing Awards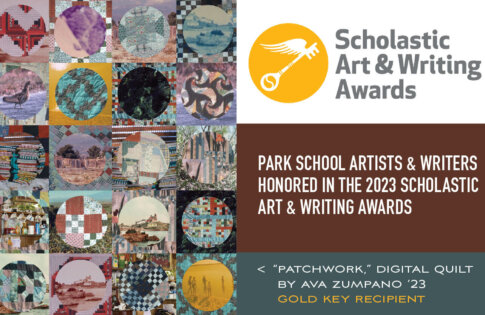 Nine Park students were honored in the 2023 Regional Scholastic Art & Writing Awards, receiving a total of 18 awards and honorable mentions in both art and writing. Founded in...
Visual Arts Chair Christine Tillman Featured in BmoreArt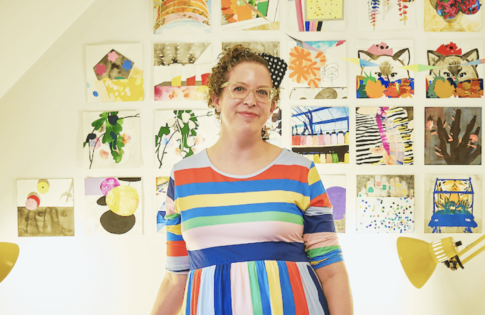 Park School's Pre-K-12 Visual Arts Chair and Upper School Visual Arts Teacher Christine Buckton Tillman was featured in BmoreArt this week. The in-depth interview covered art education, the Baltimore art...