A History of Park Sports
At Auchentoroly Terrace – Park's First Home
Druid Hill Park
---
The First Field
In a mansion facing Druid Hill Park, The Park School of Baltimore opened as one of the first in the country to have a playground with swings, seesaws, and jungle gyms. Its 104 students took full advantage of the expansive lawn just across Swann Drive for recreation and sport. The 1913 school catalogue offered some specifics:
Athletics will be carefully supervised; stress will be laid on the athletics from which all the pupils benefit, rather than on the overdevelopment of a few…. This policy will result in school teams in the various sports.

The Park School, A Country School in the City, May 1913
A carriage house, built next to the mansion in 1876, served as the gym. M. Shakman Katz, Class of 1917, remembered, "The walls of the gym were straight up for about two feet, then they slanted. The boys who played basketball got quite adept at using the wall when they jumped to make a shot." The gym also housed boys' and girls' locker rooms, climbing bars and other equipment, and a thick climbing rope hung from the ceiling.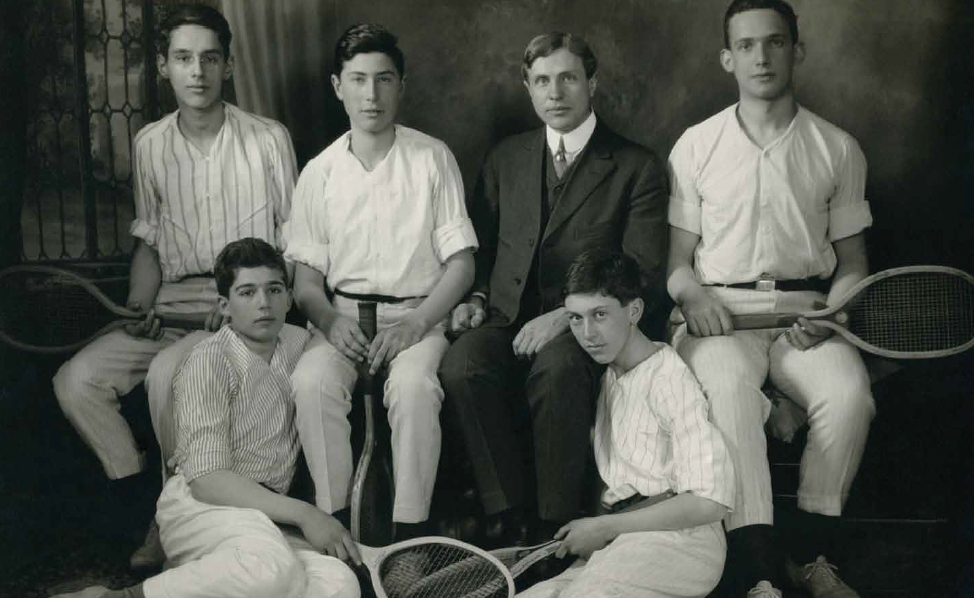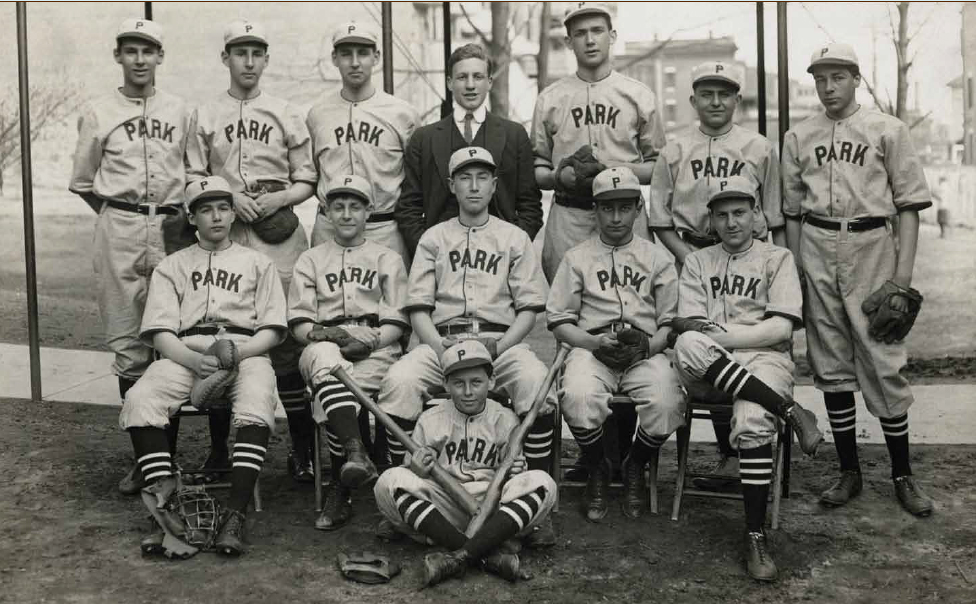 Druid Hill Park, with its lawns and trees, its playgrounds, base-ball diamonds and tennis courts, is at the school door, and together with the gymnasium and grounds of the school, gives every facility for safe and healthful play.

The Park School, A Country School in the City,
May 1913
---
"Grim" Times
The Beginning of Team Sports
In those earliest years, boys' basketball was the only interscholastic sport. A rare victory in 1914 was cause for school-wide celebration. Beatrice Kraus Stern, Class of 1917, recalled, "When we beat Friends in basketball, we had a half-day holiday."
That same year, George G. Grim arrived as the manual training and physical education teacher. On the occasion of Park's 25th anniversary, he reminisced:
"Athletics occupied a very important part of each school day. Every afternoon, on a lot about forty-feet wide and one-hundred feet deep, a howling mob of boys gathered for baseball. A gully ran through the field. As a matter of fact, it ran directly between home plate and first base. To arrive safe at first base after a wild dash down the near side of the gully and a wilder scramble up the far side provided a thrill that is given to only a few to experience."
First Headmaster Eugene Randolph Smith coached boys' tennis on the Druid Hill Park courts and Dr. Hans Froelicher, President of the Board of Trustees, coached the boys' swimming team at the YMCA pool. By 1916, Park girls were competing with city teams in basketball, tennis, and track.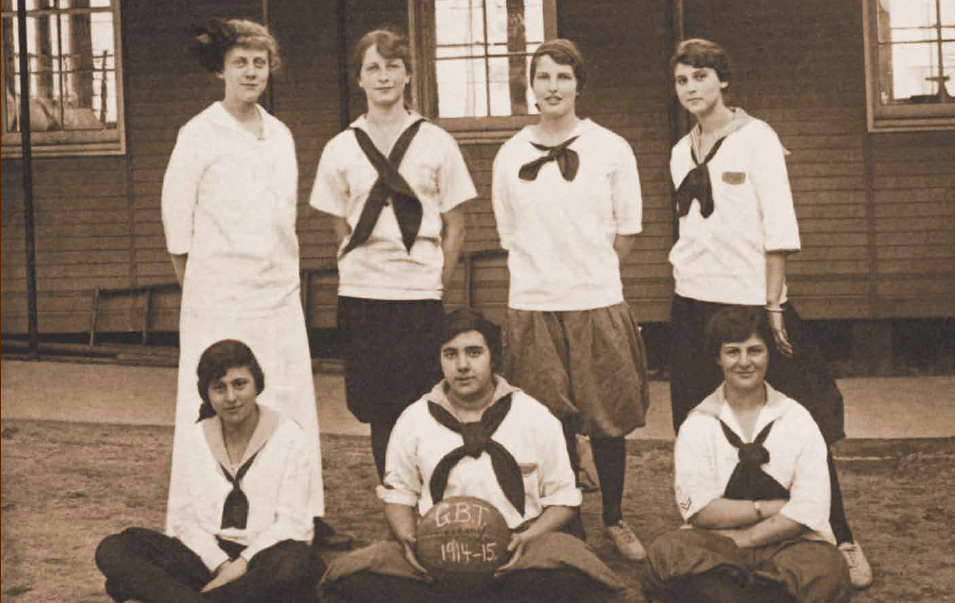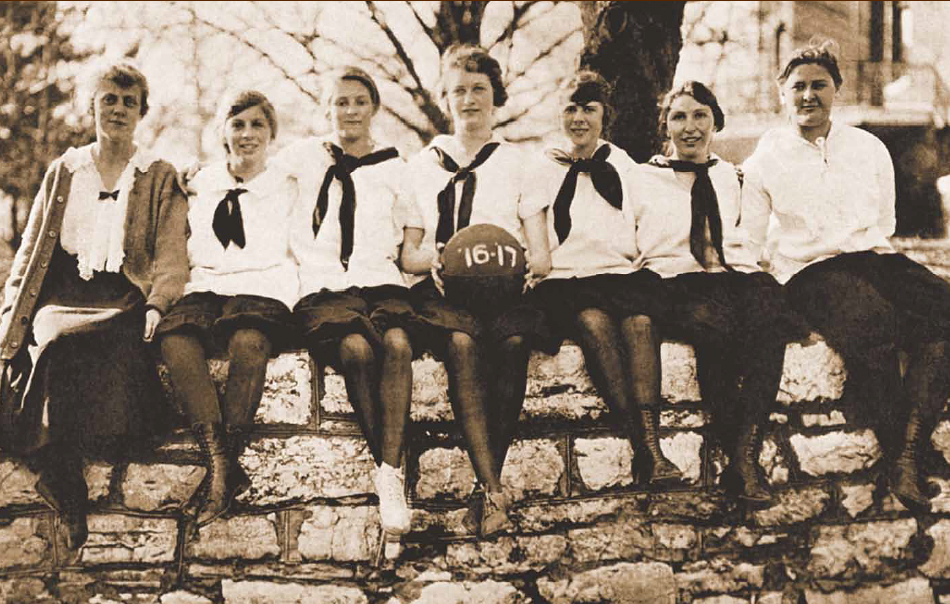 Liberty Heights
---
A "Real" Gymnasium
AND A TRACK
A growing student population compelled a move to larger quarters in December 1917. The students were ecstatic that the new campus would bring "…a real gymnasium, large beyond belief, and one which should lead the school to a leading position in the athletic world." [1918 Brownie] Considered state-of-the-art, it had a dirt floor and was unheated.
According to Coach Grim, the move brought about a "new era" for athletics. Increased enrollment meant "sometimes there were as many as six regulars available for scheduled basketball games." [1918 Brownie] Park graduates celebrated and supported the move. In accordance with their plan of encouraging the growth of athletics…the Alumni have decided to promote an annual field day… to draw the Alumni back to the school and to get them to mingle with the students once more…." [1922 Brownie] Board minutes expressed appreciation to the alumni for pledges of $5,300, which made an athletic field and quarter-mile track possible. "[F]ew schools have alumni who do as much as ours have done…we are deeply grateful for their great boon to athletics." [1923 Board Minutes]
At the dedication in 1925, Headmaster John Leydon thanked the students for "rolling the track, planting the banks, and digging the jumping pits…." Dr. Hans Froelicher, representing the Board of Trustees, noted, "The field represents great sacrifice, energetic action, and cooperation – virtues which should be characteristics of every Park School student."
To the Coaches: You, who have helped us, Through games won and lost… You, with your patience, Guiding us toward perfection, Training us in sportsmanship… We humbly thank you.

1951 Brownie
---
Football! Field Hockey!
A BIGGER SCHOOL, MORE TEAMS
A larger enrollment made it possible to expand the variety of sports offered to girls and boys. In 1921, soccer and football – "a weight team, ninety-five pounds as the average, and all the fellows in the School of approximately that weight were out for it" – were introduced. [1921 Brownie]
In 1922, the girls started playing field hockey, which "as a game, has many advantages. It develops wind and endurance. The other sex often sneers at a girls' basket-ball game, but what blood-thirsty man could desire anything rougher than a hard-fought game of hockey?" [1922 Brownie] The team won the Baltimore School Division of the United States Field Hockey Association championship that year. In addition, five students were named to the All-Baltimore Scholastic Team and played in the National Hockey Tournament in Philadelphia.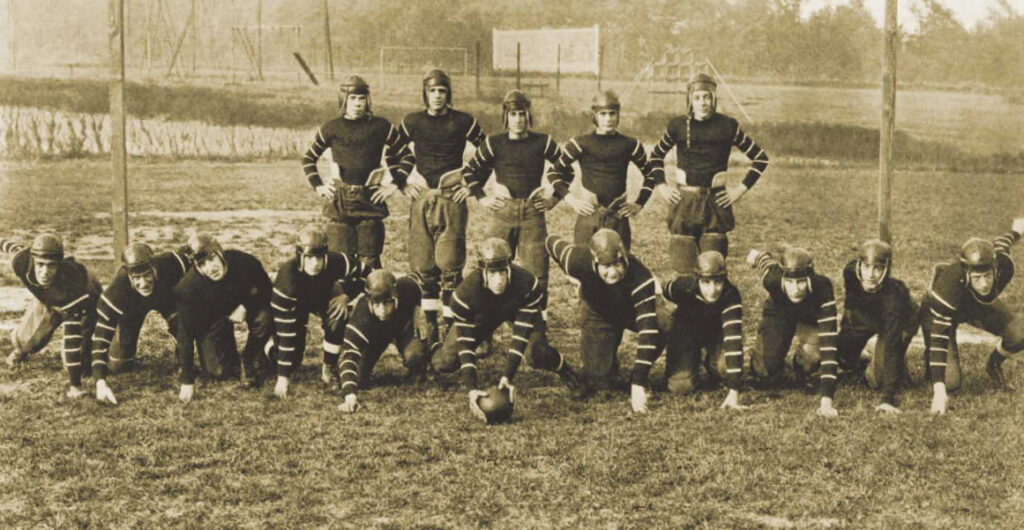 ---
Mr. Tom, Mr. Mal & Mott
LEGENDARY COACHES
The arrival of Harrison E. "Mr. Tom" Tompkins in 1922 and Martha "Mott" Hunt 14 years later are significant milestones in the history of athletics and academics at Park. For more than 25 years, Mr. Tom coached boys' basketball, soccer, football, and lacrosse. Over the course of his 47-year tenure, he taught Lower and Upper School girls and boys in shop, industrial arts, mechanical drawing, biology, arithmetic, and stage crafts; he was a class advisor, head of maintenance, and purchasing agent. Mott's duties from 1935 through the 1950s were similarly diverse and included drilling girls in the fundamentals of field hockey, basketball, and lacrosse, supervising the cafeteria staff, ordering supplies, advising the cheerleading squad, and providing college guidance.
Together, they motivated almost six decades of athletes to strive and achieve far beyond what the school's small population and modest facilities might otherwise have allowed. The 1945 Brownie editors wrote to these two coaches: "To you who have taught us to play the game, we owe our gratitude for the strong bodies, clear minds, understanding of sportsmanship, and hours of pleasure that we have gained on the athletic field."
In 1930, Mr. Tom hired C. Gardner "Mr. Mal" Mallonee to teach mathematics and to coach boys' soccer, basketball, and lacrosse. The Johns Hopkins University graduate had been an All-American football and lacrosse player and had competed in a 1928 Summer Olympics lacrosse demonstration tournament in Amsterdam. It was Mallonee who, convinced that the numbers and size of the boys in Upper School were not optimal for winning football, ended the sport and turned his energies to building a strong soccer team.
He married fellow Park teacher Esther Felter in a ceremony on Thanksgiving Day in 1932 to which all Park faculty and students were invited. Though he returned to Hopkins as a coach and men's athletics director in 1935, the Mallonee family continued to be a dominant force in Park athletics. With Mr. Mal's departure, Mr. Tom took over coaching boys' teams.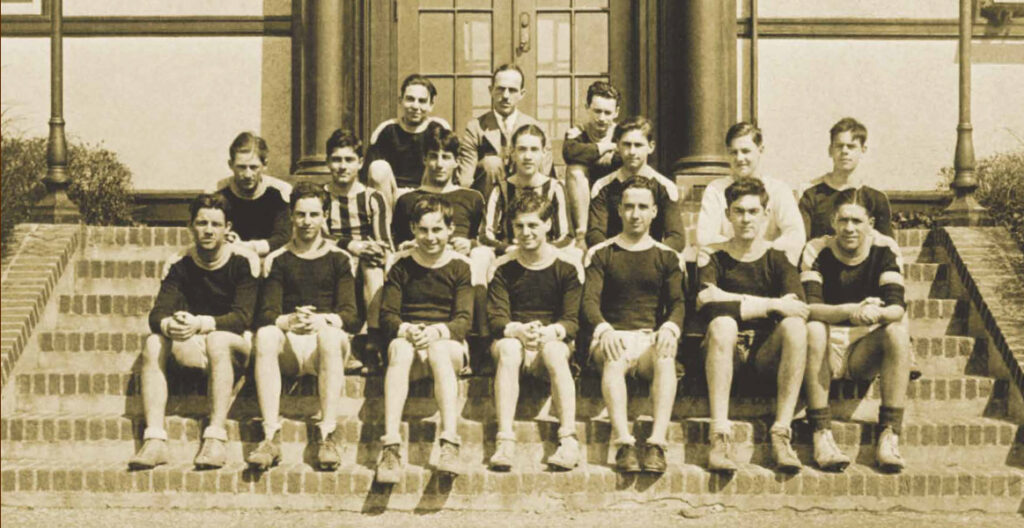 The Formula for the ideal coach:…a classroom teacher, one who is a first-class athlete himself, yet sympathetic toward those not equally gifted, one who teaches you to take the knocks and to play fairly….The formula for the perfect coach: Mr. Mallonee.

1931 Brownie
---
More Students
MORE SPACE, MORE TEAMS
In the late 1920s, the female Varsity players enjoyed great success under the direction of Coach Berniece Ryan – they won five consecutive Baltimore City field hockey championships. In 1933, "With high hopes and a peculiar feeling of superiority, the girls this spring decided to leave home their volley ball rompers and take up…lacrosse. Twenty sticks were procured from their annoyed brothers and the Triangle Sports Shops, as Ryan proceeded to teach her squad the theory of 'doing the maximum damage to the other fellow while not getting hurt yourself.'" [1933 Brownie]
Beginning in the 1940s, Park had enough students to field Varsity and Junior Varsity teams, and alumni began returning to school as assistant coaches. Championship teams brought notice for star players who were named to All-City and State Teams. Basketball remained the favored sport, and in the 1945 boys' basketball playoffs, "underdog Park played the title role in 'The Giant Killer' and took seeded Friends to the taxidermist in the playoffs" before losing in the championship game. [1945 Brownie] In 1957, enterprising girls, with the unanimous support of the student council and under Mott's guidance, started a cheerleading squad. "Throughout the entire school they have stimulated enthusiasm and spirit. Cheering has inspired the teams to more victories." [1957 Brownie]
In 1956, Park became the first area independent school to admit African Americans. The school's newly integrated teams had to confront incidents of racism on the fields and courts of some of their opponents. Coaches and players alike dealt with these episodes with integrity and a unified commitment to diversity.
Park's deteriorating athletic facilities were hardly commensurate with the trajectory of victory. The Evening Sun reported in 1950, "Most difficult task of the season is faced by Park School…. It recently lost…[several] weeks of practice and games to warm weather, which caused its composition floor to sweat daily…." The gym was not the only building in desperate need of repair. A 1955 appraisal of the Liberty Heights property stated, "The Old Building constructed in 1916 was, at the time of its construction, the latest word in school buildings, although by modern standards it has many inadequacies… which cannot be improved because of [numerous flaws]…and other functional difficulties." It was time, once again, to relocate.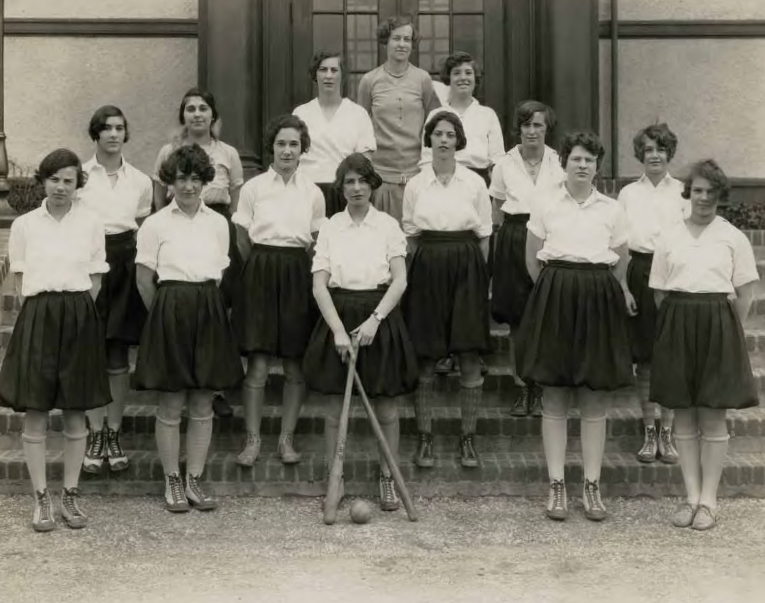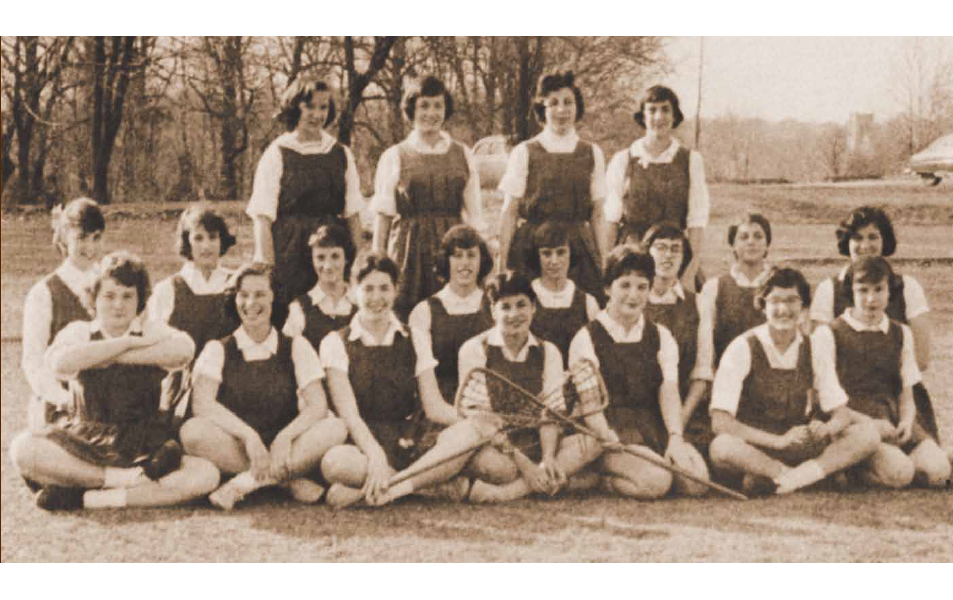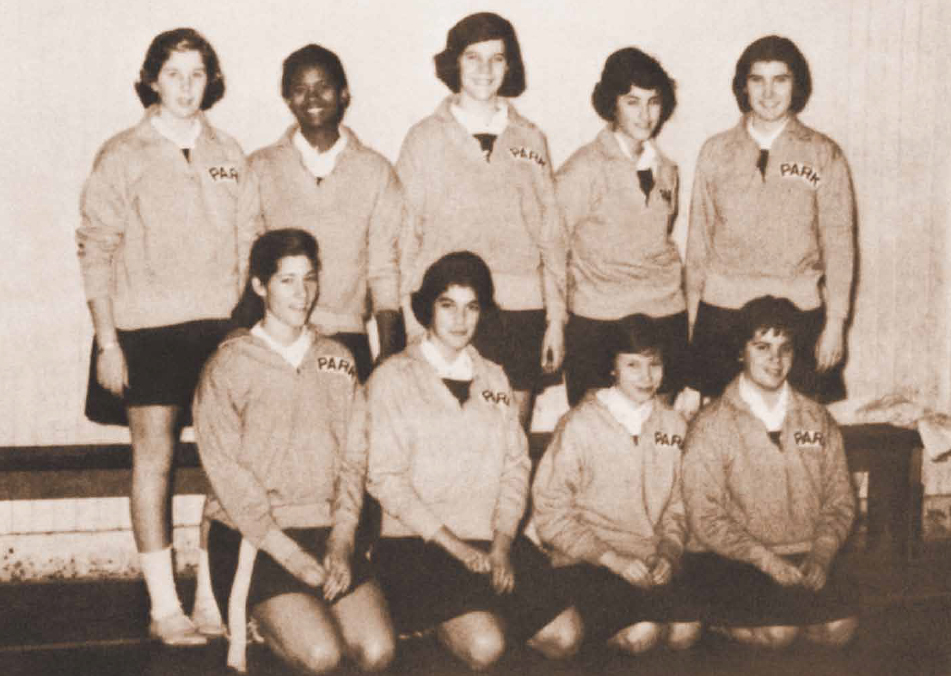 Old Court Road
---
100 Acres
A DRY GYM AND TWO FIELDS – TRAINING THE NEXT GENERATION

The move from Liberty Heights Avenue to Old Court Road marked the beginning of another era in the history of Park athletics. The larger staff, which within two years included Richard "Coach" Wallace, Joel Bernstein '53, Joe Seivold, Dave Rosen, and Midge Kaufman Thursby '47, had more athletes to coach and better facilities in which to work. The Jacob and Hilda Blaustein Gymnasium had a wood floor, retractable bleachers, climbing ropes, an electric door which could divide the vast room in half, spacious locker rooms, offices for the athletic directors, and heat. Mr. Tom installed an Army surplus trailer just above the gully that separated the boys' and girls' fields. It housed a telephone, first-aid kits, pinnies, balls, goalie pads, and hockey and lacrosse sticks. There were two tennis courts, but the Boys' Varsity Field wasn't ready that first fall, so they played soccer at the L'Hirondelle Club on Bellona Avenue.
A growing student population made it possible to start a boys' cross country team (coached by Head of School Robert Thomason, a former track star at the University of Michigan, and math teacher Randy Cockey), wrestling (also Cockey), and baseball (led by English teacher Kenny Greif).
For several years, skiing on the artificial snow at Oregon Ridge in Baltimore County was an option. Coach Bernstein (soccer, basketball, and lacrosse) and a few upperclassmen formed a boosters' group called The Monogram Club and adopted the Bruin as its mascot. Soon a student costumed as a bear began appearing at games. Girls' Varsity competitions were followed by teas in the cafeteria, where opponents were welcomed with dietician/nurse Kitty Dowdy's tuna and egg salad sandwiches (no crusts) and lemonade. When Mr. Tom retired in 1964, the field next to the kindergarten building was named Tompkins Field in his honor.
In 1967, the men's basketball team made it to the final game of the Private School Championships before falling to Gilman at the Baltimore Civic Center. Two years later, after Coach Rosen was sidelined for the season by illness, his assistant, Upper School history teacher L. Brooks Lakin, took the Boys' Varsity squad to a 19-0 season and league championship. Even post-Park, these athletes refer to themselves as the "Still-Undefeated 1969 Team."
---
Alumni Champs
In 1969, the second generation of Mallonees began coaching. Mr. Mal's son Lucky '62, an All-American athlete at Johns Hopkins, became Joe Seivold's assistant. Lucky took over as the Boys' Varsity Soccer coach in 1974 and the lacrosse coach in 1976. In 1976 and 1977, the younger Mr. Mal took his soccer squads to MSA B Conference championships.
At the same time, Midge Kaufman Thursby '47, a standout athlete at Park and local golf champion, had taken over from Mott and was teaching K-12 physical education classes. With her assistants Dottie Hayden and Rachel Nielson, she also coached three Varsity women's sports. Midge steered the girls through radical changes in basketball rules, truncation of the field hockey stick, and modernization of uniforms from brown wool tunics, originally made by Park family-owned clothing manufacturer J. Schoeneman, to polyester kilts. Sporting those kilts, her undefeated 1971 Varsity Lacrosse team captured the conference championship.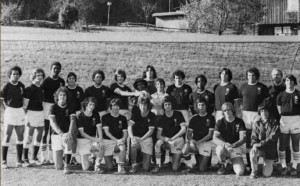 ---
Wanted
MORE SPACE TO PLAY
The opening of the Middle School in 1973 created opportunities for interscholastic games for younger children and compounded scheduling complications for the gym. In 1974, the new Blaustein Gym ii provided the girls with their own performance court and additional space for physical education classes for Lower Schoolers. That same year, Midge retired and Barb Purkey was named director of women's athletics – only the third director in 60 years.
Not every new sport survived (wrestling ended in 1972, a victim of lack of interest and lack of coach), but others began. Girls' winter soccer and co-ed Frisbee teams were organized in the early '80s, and baseball (reborn), co-ed golf, and women's soccer and softball started in the '90s. Again, these expansions were possible because enrollment had increased. Kelly Field, built in 1984 with funding from the Ensign C. Markland Kelly, Jr. Memorial Foundation on the meadow where the 1960s golf team took practice swings, became home to the Varsity Boys' Soccer and Girls' Lacrosse teams. The cross country team created a course through the woods on the far side of Moores Branch. But the growing popularity of the athletic programs and the complexities of coordinating boys' and girls' Upper and Middle School practices, gym classes, and games sorely taxed the Blaustein gyms and the coaches. The unavoidable reality: Park desperately needed another gym – or two or three.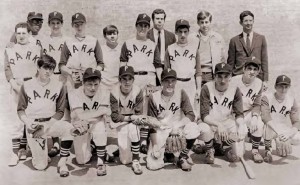 ---
New Athletic Center
NEW ATHLETIC DIRECTOR
Ridge Diven joined Park in 1998 as Athletic Director. His ancillary assignment was full-time consultant, advisor, and senior researcher for the design and building of a new athletic center. Construction began in 2000 on a 42,000-square-foot facility on the Pond Field. The school's second swimming pool, built on the former site of the non-regulation tennis courts, was demolished, the hill was leveled, and that soil was used to raise the field two feet above the flood plain.
The new Athletic Center had three full basketball courts and Varsity and Junior Varsity, home and visiting, student and faculty locker rooms. The Lyn P. Meyerhoff Fitness Center and a full-time athletic trainer gave renewed meaning to Mens Sana in Corpore Sano. The Class of 1972 donated a climbing wall in honor of its advisor, James R. Howard iii; a 25-meter pool and a wading pool were built at the west end of the site; and the Lee Rosenberg '47 Field was carved out of the west end of the original Boys' Varsity Field.
Ridge Diven joined Park in 1998 as Athletic Director. His ancillary assignment was full-time consultant, advisor, and senior researcher for the design and building of a new athletic center. Construction began in 2000 on a 42,000-square-foot facility on the Pond Field. The school's second swimming pool, built on the former site of the non-regulation tennis courts, was demolished, the hill was leveled, and that soil was used to raise the field two feet above the flood plain.
---
Extraordinary Gift
EXTRAORDINARY HONORS
A chronic issue shared by many independent schools in the late 1990s was the lack of playing fields to accommodate growing numbers of teams. In 2001, Park received a remarkable gift from Gordon and Lucille Sugar and their daughter Susan Sugar Nathan '73 – a 99-year lease on 135 acres on Hillside Road. The property, barely two miles from the main campus, allowed the school to construct its first baseball and softball diamonds, and two more fields for soccer, hockey, and lacrosse, in addition to securing undeveloped acreage for nature study. In the decade since, boys' baseball and girls' softball teams have won several conference titles and had outstanding players recruited to play college sports.
Barb Purkey and Lucky Mallonee were honored by the alumni in 1997 for their combined 50 years of coaching at Park with the establishment of financial assistance funds to benefit Upper School athletes. In 2000, The Baltimore Sun named Barb All-Baltimore City/County Field Hockey Coach of the Year. In 2007, after 33 years as Girls' Athletic Director, she retired. During her tenure, she greatly expanded the opportunities for female athletes and sent many off to compete at the college level. As perhaps the most fitting legacy, her former student, Robin Cardin Lowe '84, succeeded Barb as Girls' Athletic Director.
Lucky's 2005 Varsity Lacrosse team captured the conference championship in a heartstopping overtime match, avenging a previous loss in the finals to the same team. He was inducted into the Baltimore Chapter of the US Lacrosse Hall of Fame in 2008, joining his wife Karen '72, her sister Susan '72, and, of course, his father, the original Mr. Mal.