History
In 1911, the Baltimore City School System was in crisis. Mayor James Preston was at odds with the innovative Superintendent of Schools James H. Van Sickle, who had been fighting to modernize a system that The Baltimore Sun had called a disgrace. The Mayor replaced three School Commissioners with hand-picked conservatives, who formed a new majority that ousted the superintendent. Other Commissioners resigned in protest. Out of this political controversy, The Park School of Baltimore was born.
As a result of this change in the school system, many parents were looking for alternatives for their children, including private schools, but for Jewish families the choices were few, because many schools did not accept Jews or had quotas.
In March of 1912, Eli Frank Sr., a Commissioner who was fired by Preston; Goucher Professor Hans Froelicher Sr. and General Lawrason Riggs, who both resigned, and a group of 13 men, convened a meeting to discuss the founding of a new school. Knowing that many Jewish parents, seeking to enroll their children in private schools, faced quotas if not outright refusal, the founders created Park as the first non-sectarian independent school in Baltimore. The school embraced progressivism and became a national leader in the Progressive Education movement.
The Park School opened its doors September 30, 1912 on Auchentoroly Terrace, across from Druid Hill Park. In 1917, it moved to Liberty Heights Avenue, now the site of the Community College of Baltimore City, and in 1959 to its current home on Old Court Road. In June 1954, Park became the first independent school in the area to accept African-American students.
Now 100 years from its opening day, Park continues to be committed to its progressive roots, to innovative teaching and intellectual inquiry, and to diversity in all its definitions.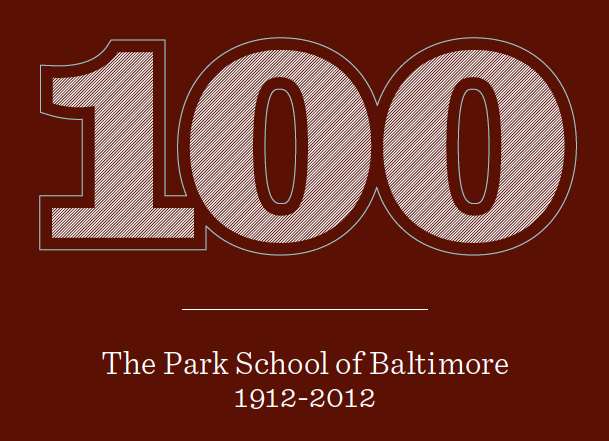 100 – The Centennial Book
This splendid publication illustrates Park School's history with a selection of 100 ideas and documents, objects, photos, and memories that chronicle who we were and who we are.
---
Archives
Park's archivist, Charlene Prem, manages the archival collection and assists with archival research by appointment. She holds a master's degree in library science and brings with her over 20 years of experience in research and collections management.
Please send requests for access and information directly to cprem@parkschool.net.
Park is grateful to Middle School math teacher, Larry Gilbert '67, who for many years served as archivist, cared for, organized, preserved, and protected Park's historical records, including original minutes from Trustees' meetings, photographs from our first home on Auchentoroly Terrace, Brownies, Postscripts, cleats, and gym tunics.