Weinberg Resident Journalist Elizabeth Kolbert Shares Science Behind "Sixth Extinction"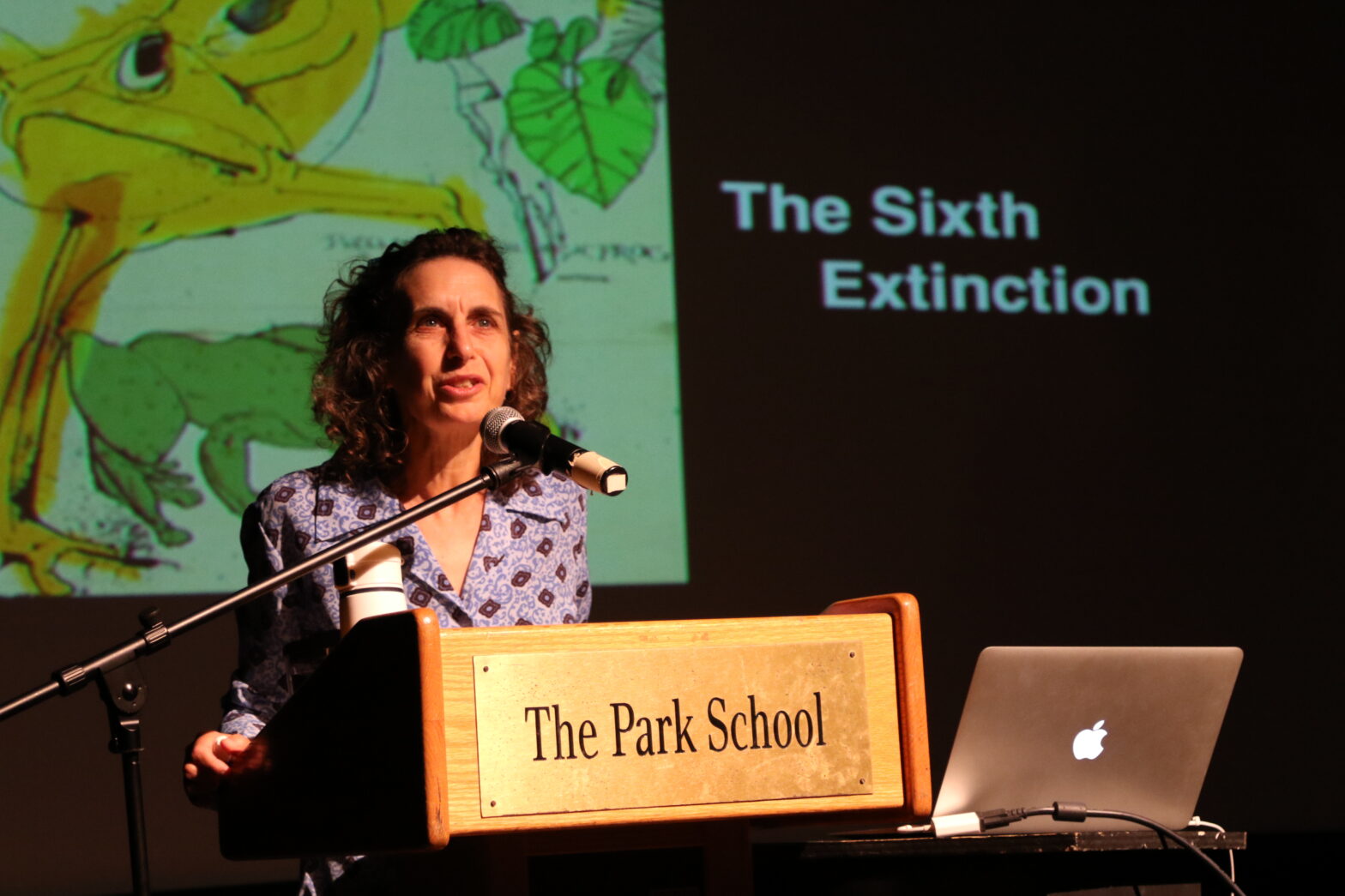 Park School welcomed Elizabeth Kolbert as our 2019/20 Weinberg Resident Journalist. An award-winning journalist and author, Elizabeth has been a staff writer at The New Yorker since 1999. Previously, she worked at the New York Times, where she wrote the Metro Matters column and served as the paper's Albany bureau chief. Her three-part series on global warming, "The Climate of Man," won the 2006 National Magazine Award for Public Interest and the 2006 National Academies Communication Award. She received a Heinz Award in 2010, and won the 2010 National Magazine Award for Reviews and Criticism.
She is the editor of The Best American Science and Nature Writing 2009 and the author of The Prophet of Love: And Other Tales of Power and Deceit; Field Notes from a Catastrophe; and The Sixth Extinction, for which she won the Pulitzer Prize for general nonfiction in 2015. She received the Blake-Dodd Prize from the American Academy of Arts and Letters in 2017.
Elizabeth presented to the Upper School community today in an assembly that included the science and stories at the core of The Sixth Extinction, followed by an open Q&A session with students and the faculty. After the assembly, Postscript editors hosted an open Q&A session in the Blaustein Lecture Hall for students to continue the discussion on the topics of climate change, paleontology, Elizabeth's personal/professional experiences, and, of course, journalism.
Senior Naomi Carpenter introduced Elizabeth Kolbert at assembly. Excerpts from her introductory remarks follow.
As you all know, this year's Weinberg Resident Journalist is the Pulitzer Prize-winning author of The Sixth Extinction: An Unnatural History, Elizabeth Kolbert. As the title of her book implies, there have been five previous mass extinction events. The largest extinction was the Permian-Triassic event, some 252 million years ago, where over 90 percent of all living species perished. The most infamous mass extinction is the Cretaceous-Paleogene event, 66 million years ago, in which the dinosaurs, along with three quarters of all plant and animal species on Earth, were annihilated. After traveling the world to witness firsthand hundreds of species, and even biospheres, teetering on the verge of collapse, Kolbert relays the calamitous reality of the new wave of man-made mass extinction. "Those alive today," she writes, "not only are witnessing one of the rarest events in life's history, we are also causing it."

Kolbert traces the intellectual history of evolution and extinction, illuminating how, even as these ideas developed, human-caused extinctions were already taking place. She offers a catalog of creatures done in by callousness, greed, industry, and even human ingenuity. The Panamanian golden frog, a victim of a jet-setting fungus accidentally shipped worldwide by humans. The Great Auk, lost to greed, appetite, and wealthy taxidermy collectors. The mastodon, mammoth, woolly rhino, and cave bear, which reproduced too slowly to make up for rates of hunting by prehistoric humans. But her book is not one long obituary, or just a deluge of grim statistics. It also poses urgent questions: Are we simply a species that has garnered evolutionary advances, or have we come so far to truly be a global cataclysm? And "does it have to end this way?"

In Kolbert's writing, the global is the personal, and our responsibility for salvaging our biosphere is paramount. The stakes are always heightened. She reminds us that "right now, in the amazing moment that to us counts as the present, we are deciding, without quite meaning to, which evolutionary pathways will remain open and which will forever be closed. No other creature has ever managed this, and it will, unfortunately, be our most enduring legacy."

We are lucky to have her here today because of Park's Resident Journalist program, which is made possible thanks to Loie, Len, and Lindley Weinberg. They created the legacy in honor of their family member Robert L. Weinberg, of the Park Class of 1940. We are all grateful for their generosity.
Back to The Latest
Share
Related Posts
Park Alumnus Rahsan-Rahsan Lindsay '90, CEO Of MediaCo Holding, Returns To Park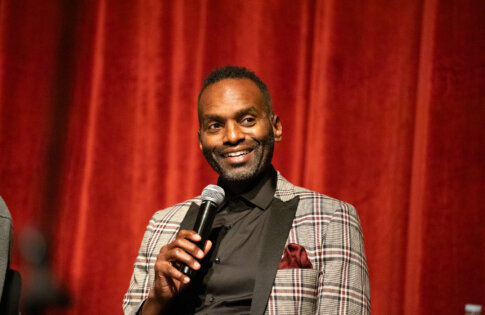 Park alumnus Rahsan-Rahsan Lindsay '90 returned to Park this week to speak with Upper School students about his career in the entertainment industry. Lindsay is the Chief Executive Officer of...
Park Welcomes Elana Liebow-Feeser '14 and Jeremy Cohen '12 as 2023 Millhauser Fellows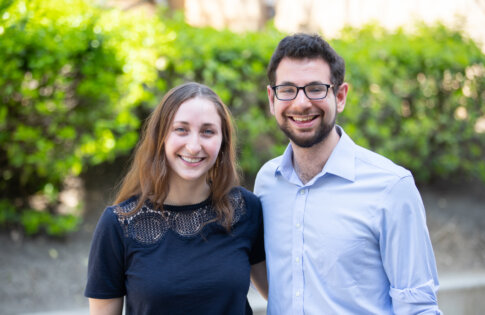 Last week, Park welcomed Elana Liebow-Feeser '14 and Jeremy Cohen '12 back to campus as our 2023 Millhauser Fellows! Started by Louise Eiseman Robinson Millhauser '30 in 1998, and continued...