Extended Day
Our Extended Day program offers care for Lower School children who require supervision beyond the end of the school day. Our warm and nurturing staff organizes a wide array of activities each afternoon, including crafts, board and card games, and outdoor play, as well as quiet space to tackle homework in the upper grades. A daily snack is served.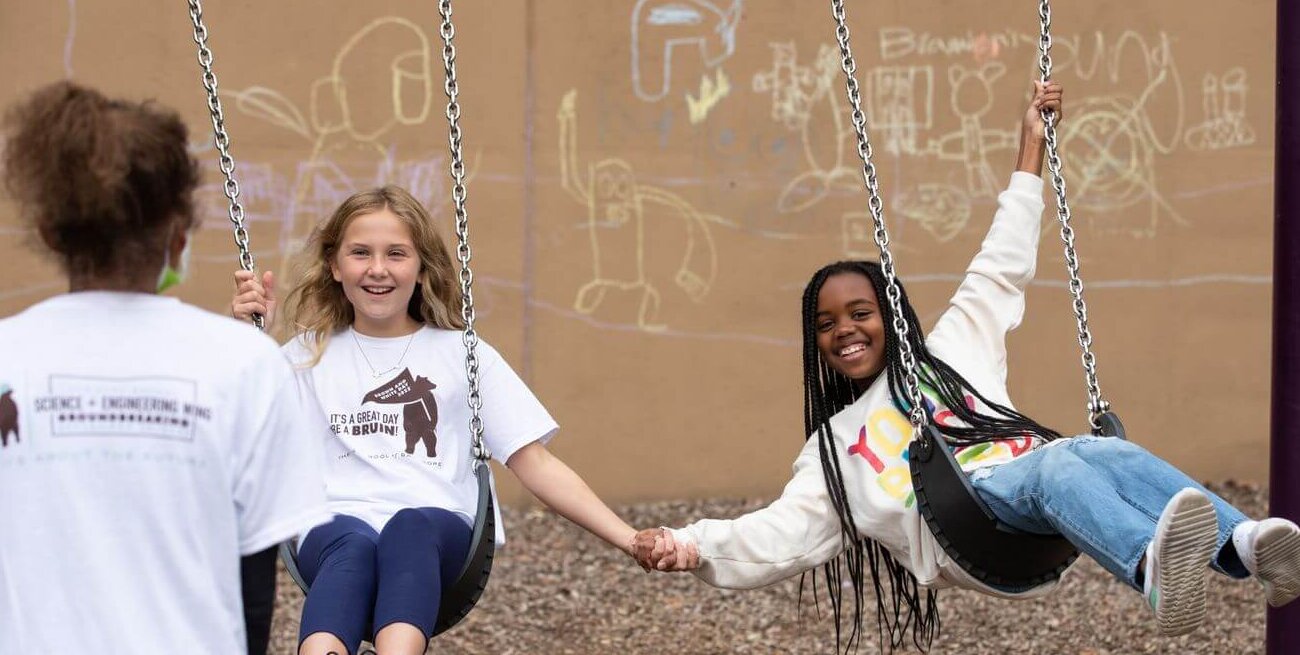 During your child's time with us, Extended Day fosters a safe sense of community while reinforcing Park School's ideals of fair play and respectful discourse with peers and adults. Look for familiar faces as well as some new staff this fall. Our staff facilitates a smooth transition between the school day and students' time in our program. Please feel free to call 410-339-4195 or email lsoffice@parkschool.net with questions.
Pick-up Procedures
Park School uses the Kinderlime app for pick-up procedures. Parents are asked to sign children out on iPads available at each of the Extended Day sites. This app allows us to track the location of students and to communicate with parents through messages and email notifications.
All parents will be emailed a four-digit pin number. This number is used to sign your children out of Extended Day. If you forget your pin, we can always email it to you again, and staff members do have the ability to check your child out for you. Whenever your child is checked in at Extended Day, and whenever they are picked up by you or another caregiver, you receive email notifications. The app also allows us to send important reminders or other communications to you. If you do not wish to receive these notifications, however, you may unsubscribe at any time.
Locations
The Extended Day program takes place in four locations throughout the school in areas familiar to students at each developmental level. Kindergarten students gather in their building's multipurpose room. Our programs for first and second graders are located in the workshop areas (the "pods") adjacent to the respective grade's classrooms. Children in grades three through five gather in the cafeteria each afternoon. The Kindergarten and Lower School playgrounds are a daily (and popular) option for all of our participants. Each of our sites is led by an experienced, trained coordinator who acts as the primary point of contact for sharing information about your child's afternoon.
Enrollment Options
When determining which enrollment option to choose, we ask that you consider the age and temperament of your youngster. Some students, particularly in the younger grades, function best with an early pick-up.
ANNUAL OR TRIMESTER REGISTRATION
Families may register for an annual contract or by the trimester (fall, winter, and spring). Families may choose between coverage until 4:30 p.m. or 6 p.m. as well as anywhere from one to five days per week (there are pricing advantages for more frequent use).
Please select the days and times you require care for contractual Extended Day.
Students will receive a discount on after-school classes during the trimesters they are enrolled in the full-time extended day option (5 days per week, 4:30 or 6 p.m.).
DROP-IN SERVICE
Students not scheduled to attend Extended Day by contract may attend as drop-ins. Extended Day should be indicated on the morning check-in sheet in the child's classroom. If a parent is unsure that a child is aware of his or her Extended Day attendance or if the child's dismissal plan has changed to Extended Day, parents should make the Lower School office aware of the change. All families are asked to call the Lower School Office by 2 p.m. to inform them of the plan to attend. The Lower School Office can be reached at 410-339-4195.
Drop-in service is offered from 4:30 to 6 p.m. for students participating in after-school classes or activities. The fee for this service is $22.
Program Fees
The fee schedules reflect coverage for each trimester and the full year. Fees are billed three times per year – in October, December, and March. Registration is open for a period of time prior to each trimester. Fees are not subject to reduction nor will refunds be offered for non-use of Extended Day due to absences, vacations, student activities, changes in plans, withdrawal, or school closings.
The annual pricing option is not available after billing the first trimester registration period. Please note, too, that the annual pricing option is a commitment to participate in the program for the entire year and will not be prorated for reduced service usage. Similarly, trimester fees are not prorated for late registration or for reduced service usage.
2023–2024 Extended Day Fee Schedules
Registration will be offered for the full year and each trimester. The first trimester (fall) is shorter than the winter and spring trimesters. This is due to the fall athletic season beginning in the summer. Exact dates may change each year but will typically run as follows:
Fall trimester – first full day of school through November 3
Winter trimester – November 6 through February 15
Spring trimester – February 20 through last day of school
EXTENDED DAY: 3:15-4:30 p.m.
| DAYS | ANNUAL | FALL | WINTER | SPRING |
| --- | --- | --- | --- | --- |
| 5 Days | $2890 | $660 | $1555 | $1555 |
| 4 Days | $2395 | $555 | $1110 | $1110 |
| 3 Days | $1880 | $430 | $870 | $870 |
| 2 Days | $1310 | $305 | $600 | $600 |
| 1 Day | $660 | $160 | $305 | $305 |
DROP-IN FEES
DAILY DROP-IN
$22
Drop-in Extended Day fees are billed monthly.
EXTENDED DAY: 3:15-6 p.m.
| DAYS | ANNUAL | FALL | WINTER | SPRING |
| --- | --- | --- | --- | --- |
| 5 Days | $4175 | $935 | $1865 | $1865 |
| 4 Days | $3370 | $780 | $1545 | $1545 |
| 3 Days | $2620 | $610 | $1200 | $1200 |
| 2 Days | $1810 | $410 | $845 | $845 |
| 1 Day | $935 | $220 | $430 | $430 |
DROP-IN FEES
DAILY DROP-IN
$30
Drop-in Extended Day fees are billed monthly.
Late Fees
Parents are expected to pick up children on time. Parents arriving late for a 4:30 p.m. pick-up time will be charged an additional $15 until 6 p.m. Parents arriving after 6 p.m. will be charged a LATE FEE OF $30 PER QUARTER HOUR OR ANY PART THEREOF.
Closures and Early Dismissal
Extended Day is not offered on days the Lower School is closed.
Note: Please check the Veracross calendar for the most up-to-date information.
On the following early dismissal days, there will be no Extended Day for all grades:
August 30: Lower School half day
November 3: Parent/Teacher Conference day
November 9: Parent/Teacher Conference day
March 1: Parent/Teacher Conference day 
March 7: Parent/Teacher Conference day 
May 10: May Day
Inclement Weather
In the event of inclement weather, the School makes a decision about whether it is safe to offer after-school programming. Please check the School website for weather-related announcements. If after-school programs are canceled, the Extended Day staff requests that parents make an effort to pick up children as close to dismissal time as possible.