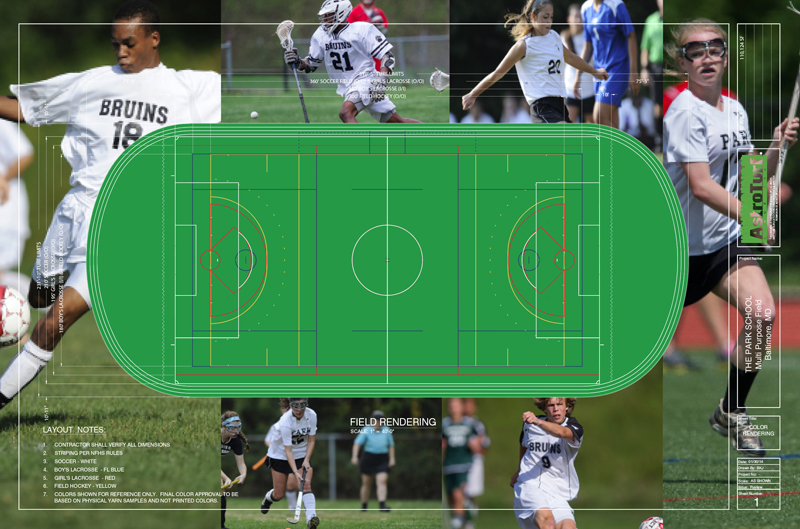 Today, Head of School Dan Paradis announced that Park will be adding to its state of the art athletic facilities with the installation of a next-generation Astroturf playing surface on Kelly Field. Construction will begin this spring with the turf field ready for competition, physical education, and community recreational activities in the fall.
The turf to be added to Kelly field represents the latest in developments in competition surfaces. Compared to artificial turf options that have been available to date, the material we will be installing is more responsive to athletes' performance and also reflects the latest research and innovation with regard to injury prevention. The field will be lined for varsity-level lacrosse, soccer, and field hockey competition. To maximize the space for our physical education programming and to provide a high performance running surface, the resurfacing of the field will incorporate the existing multi-lane track, as well.
The multi-sport turf field will be the newest addition to Park's suite of athletic facilities that include:
• Our 42,000 square foot Athletic Center with its three full-sized basketball courts, fitness center/training facility, climbing tower, and adjoining swimming pool.

• Nine competitive playing fields — five on our main Old Court Road campus and four on the nearby Sugar Campus, including the regulation NCAA baseball field that was constructed and is maintained via a unique partnership with Stevenson University.

• The award-winning Appalachian Challenge course and adjacent pond used for Middle School physical education, leadership development, and outdoor education across all divisions.
We're excited about the possibilities created by this turf field for all of our students, teachers, coaches, families, and alumni. Whether in head-to-head competition with our peer schools or through curricular and co-curricular enhancements, the new turf field positions Park to support our longtime athletic tradition valuing both participation and a competitive spirit for years to come.
Go Bruins!
Back to The Latest
Share
Related Posts
Senior Ridgely Smith Receives 2023 IAAM Sportsmanship Award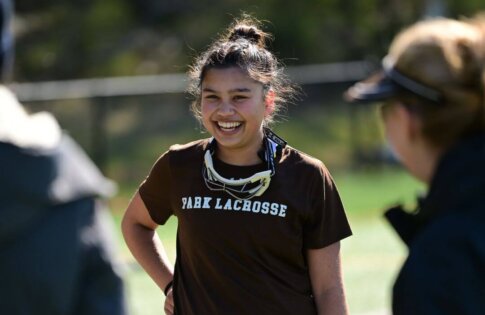 Congratulations to senior Ridgely Smith on being selected to receive the 2023 IAAM Sportsmanship Award! A multi-sport athlete at Park, Smith will be heading to Swarthmore College in the fall...
Fifteen Park Students Named All-Conference for Spring Season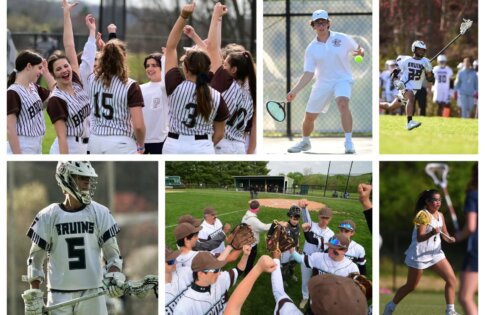 Fifteen Park students were named IAAM and MIAA All-Conference players this 2023 spring season! Congratulations to our players, coaches, families, and athletic directors — and thank you for your amazing...
Five Park Seniors Commit to Compete at Collegiate Level Next Year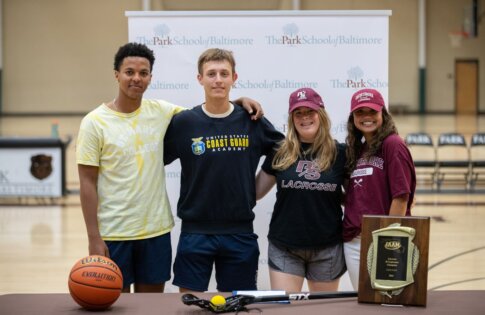 A huge congratulations to our five seniors who have committed to compete at the collegiate level next year! Strive on, Bruins! Noah Heller – Coast Guard Academy • Lacrosse Savannah...