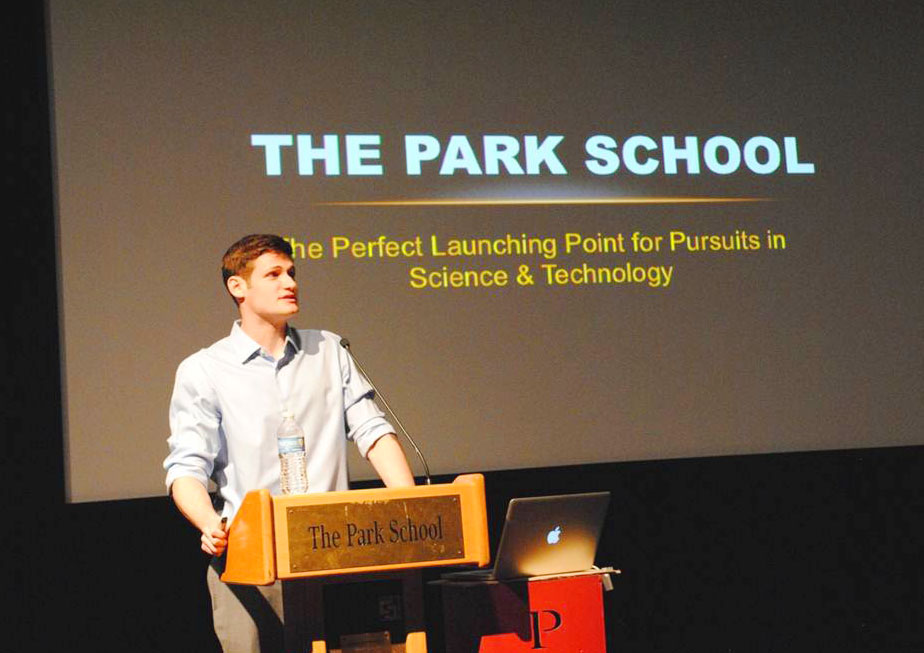 Congratulations to David Narrow '08 for being named one of Forbes magazine's "30 Under 30" notable entrepreneurs in the healthcare industry.
After graduating from Park, David earned his bachelor's of science in Biomedical Engineering with highest distinction from the University of Rochester, focusing primarily on Biomechanics. He then received a master's degree in the same subject from Johns Hopkins University.
At Hopkins, David worked with four other graduate students within the Center for Bioengineering Innovation and Design (CBID) — part of the Johns Hopkins Department of Biomedical Engineering — to develop the EchoSure system, an ultrasound-based technology that detects potentially catastrophic post-operative blood clots. The yearlong program at CBID required student teams to identify an urgent healthcare problem and then design and test a solution. David and his teammates won first place in the 2013 National Collegiate Inventors and Innovators Alliance's biomedical engineering design contest, receiving $10,000 in prize money.
David is now the CEO of Sonavex, a Baltimore-based medical device company developing ultrasound solutions to visualize and quantify critical data directly at the point of care. Sonavex is part of FastForward, a business accelerator program supported by Johns Hopkins Technology Ventures, and has also received numerous grants, awards, and enthusiastic support. The company has raised $1 million to advance development of the EchoSure technology.
The Forbes article also mentions his work with MonoMano Cycling, "a company that makes adaptive bikes for stroke survivors and people with similar limitations." David developed the MonoMano Cycling Control System with four teammates as a senior-year design project at the University of Rochester's Hajim School of Engineering and Applied Sciences. The MonoMano enables riders to steer, brake, and shift gears on a recumbent tricycle with one hand. David and his teammates decided to pursue the project after graduation and created the startup company, which he now runs in addition to his work at Sonavex.
Selected as a Millhauser Fellow in 2013, David returned to Park while in graduate school to speak at an Upper School assembly and spend a day in classes and meetings with students and faculty. He talked about his bioengineering courses at Hopkins and the specific projects he was working on at the time, including two medical device ventures — one targeted at the United States healthcare system, and the other intended for low-resource medical infrastructures globally. The Park School Graduate Student Fellows Program in Science, Mathematics and Technology was originated by Louise Eiseman Robinson Millhauser '30 in 1998, and has been continued through the generosity of her son, Allen Robinson. The program celebrates the careers of young alumni currently in graduate school in these fields, by inviting them to return to Park and share their research with Upper School students.
Check out David in the Forbes list here: http://www.forbes.com/30-under-30-2016/healthcare/
Back to The Latest
Share
Related Posts
Park Welcomes Elana Liebow-Feeser '14 and Jeremy Cohen '12 as 2023 Millhauser Fellows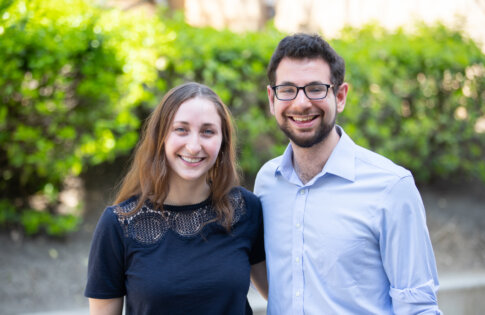 Last week, Park welcomed Elana Liebow-Feeser '14 and Jeremy Cohen '12 back to campus as our 2023 Millhauser Fellows! Started by Louise Eiseman Robinson Millhauser '30 in 1998, and continued...
A "Curious Minds" Feature by R. Eric Thomas '99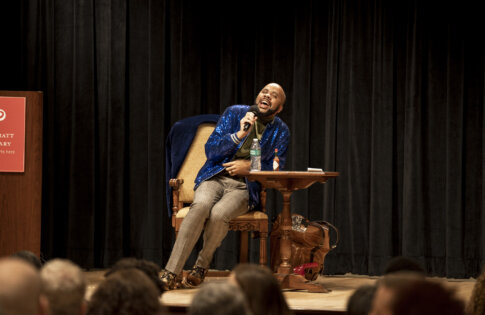 In the fall 2023 issue of Cross Currents magazine, we celebrate curious minds. Our teachers gave us glimpses into the goings-on among the curious minds at Park, and our principals...