Eric Holder at Park School
The former U.S. Attorney General in conversation with journalist April Ryan: March 23
Registration below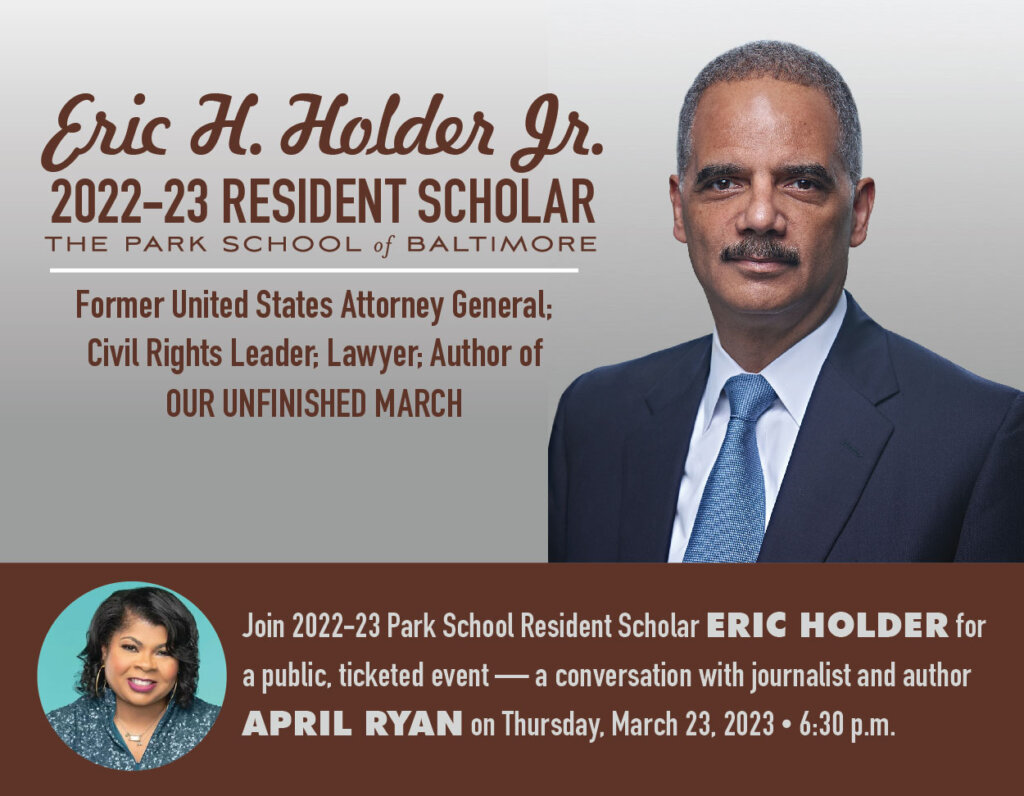 Presented by the Parents' association in partnership with the civil rights trip
A Conversation with Eric Holder
THURSDAY, MARCH 23 • 6:30–8:30 P.M.
park school's meyerhoff theater
Former U.S. Attorney General Eric Holder in conversation with journalist and author April Ryan. This is a public, ticketed event — we hope you can join us. Ticket and book sales support student participation in The Civil Rights Trip.
The Park School of Baltimore welcomes Former U.S. Attorney General Eric Holder to campus for two special appearances.
In February, Eric Holder visits our Upper School as our 2022-23 Resident Scholar. For more than 30 years, the Park Parents' Association has sponsored the Resident Scholar program, bringing uniquely qualified individuals to engage, challenge, and inspire our students. Through the generosity of two former Park families, each member of the Upper School student body and faculty was provided with a copy of Mr. Holder's latest book, Our Unfinished March: The Violent Past and Imperiled Future of the Vote — A History, A Crisis, A Plan. Students gather at assembly for a discussion of this timely book with Mr. Holder, moderated by Park senior Daniel Perrin.
On the evening of Thursday, March 23 (6:30–8:30 p.m.), the Park Parents' Association, in partnership with The Civil Rights Trip, welcomes Mr. Holder back to campus for a public, ticketed event — a conversation with White House correspondent, political analyst, and author April Ryan (a Park parent!).
All proceeds from ticket sales ($5) go to fund student participation in The Civil Rights Trip. Copies of Our Unfinished March are available for purchase when you register for the event. A portion of each book sale will also go to support student access to The Civil Rights Trip. (Mr. Holder will try to sign any copies of the book purchased before March 9.) Additional donations in support of The Civil Rights Trip are welcomed.
Since 2004, students and faculty from Park School and several Baltimore Schools — Baltimore City College High School, City Neighbors High School, and the Baltimore Leadership School for Young Women — have traveled together to sites throughout the South, engaging with the history and lessons of the Civil Rights Movement, meeting people important to the movement, and connecting with peers who share a vision for a better world. What they experience is a springboard for discussion about activism and ways we can tackle civil rights issues in Baltimore and beyond, today and in the future. Due to the extraordinary interest in the trip, two groups of students are traveling this year — in January and in March.
Eric H. Holder Jr. is a civil rights leader who is chairman of the National Democratic Redistricting Committee. He served as the eighty-second attorney general of the United States, the first African American to hold that office.
Mr. Holder is a Partner at the law firm of Covington & Burling LLP. He served as Attorney General from February 2009 to April 2015. As the third longest serving Attorney General in U.S. history, Mr. Holder is an internationally recognized leader across a broad range of regulatory enforcement, criminal justice, and national security issues. In 2014, Time magazine named Mr. Holder to its list of 100 Most Influential People, noting that he had "worked tirelessly to ensure equal justice."
Including his tenure as Attorney General, Mr. Holder has served in government for more than 30 years, having been appointed to various positions requiring U.S. Senate confirmation by Presidents Obama, Clinton, and Reagan.

About Eric Holder's book, Our Unfinished March: The Violent Past and Imperiled Future of the Vote — A History, A Crisis, A Plan

"Based on his direct experiences as the first Black U.S. attorney general, working under the first Black U.S. president, Holder describes the ongoing threats against U.S. democracy and, responding to policy changes leading to voter suppression, argues for new protective measures and processes to safeguard and expand voting rights for millions of Americans. Readers will find important, compelling episodes in U.S. history and politics, along with hope for the future in the form of the opportunities Holder outlines for challenging voter suppression and other threats to our democracy."
—Booklist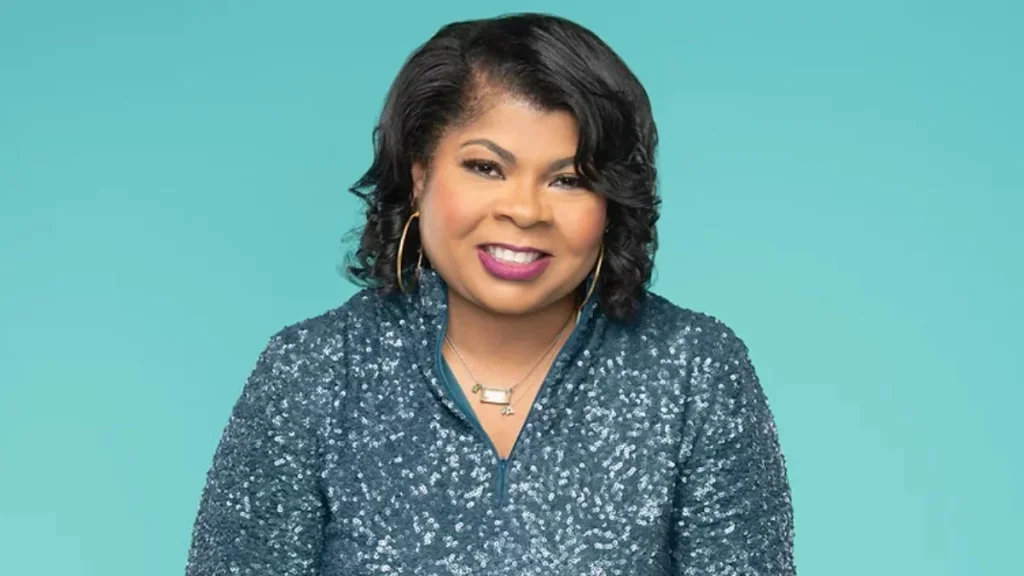 White House Correspondent April Ryan has a unique vantage point as the only Black female reporter covering urban issues from the White House — a position she has held for 25 years. Her position as a White House Correspondent has afforded her unusual insight into the racial sensitivities, issues, and attendant political struggles of our nation's past presidents.
April can be seen on CNN. She is also the Washington D.C Bureau Chief on TheGrio. She has been featured in Essence, Vogue, Cosmopolitan, and Elle magazines — to name a few. April Ryan has served on the board of the prestigious White House Correspondents Association. She is one of only three African Americans in the Association's over 100-year history to serve on its board. She is also an esteemed member of the National Press Club.
April Ryan is the author of the award-winning book, The Presidency in Black and White, and At Mama's Knee: Mothers and Race in Black and White (December 2016), where she looks at race relations through the lessons and wisdom that mothers have given their children. Her latest book is Under Fire: Reporting from the Front Lines of the Trump White House.
---
Thank you for your interest in the Eric Holder event at Park! Due to wonderful community interest, we are currently at capacity. Please join our waitlist below. In the event that spaces open up, we will notify those on the list on a first come, first served basis.
WAITLIST: Eric Holder at Park School • March 23
"*" indicates required fields