Middle School Back-to-School 2023-24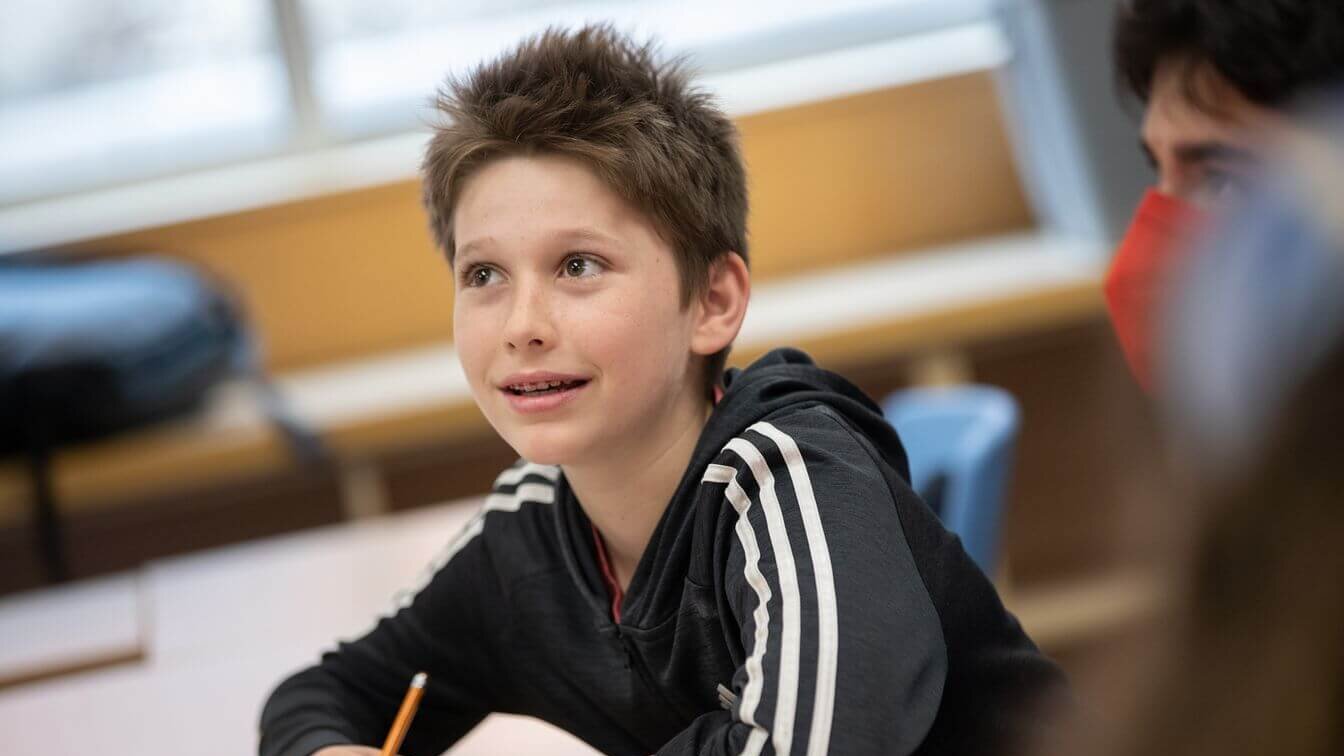 Welcome to the 2023-24 School Year!
---
To-Do Before School Begins
SUBSCRIBE TO STUDENT SCHEDULES AND HOUSEHOLD CALENDARS:
Click here to go to the Veracross log-in to view your child's schedule. The portal will also allow you to subscribe to your Household Calendar.
PURCHASE TEXTBOOKS:
After reading the Book Information section (on purchasing and renting), click the appropriate Grade Level Supply List link (just below) to purchase the required textbooks.
GATHER SCHOOL SUPPLIES:
Click on the grade-level links below to download the Grade Level Supply Lists.
BOOK INFORMATION (PURCHASING & RENTING)
Buying Texts:
We ask that students buy some of the books they use in particular classes. These are generally workbooks, novels, and short story collections where the expectation is that students will be filling in blanks, highlighting, underlining, and taking notes in the margins. The books that we ask students to buy can be found on the Grade Level Supply Lists. Please note, required book purchases for 6th Grade this year will be announced later on in the year.
Renting Texts:
The other way your children will get books is through book rental. These will be distributed to families before school starts and you will be charged a "user's fee" for them. The fee is substantially less than the cost of buying the books and covers the cost of replacement when a book has become too dog-eared to use again or when the publisher comes out with a new edition. Math, Modern Language, and Language Arts teachers often use rental texts rather than ask you to buy them.
Important to Know about Rentals:
If your child loses the text, you will be charged the full cost of replacing it.
You will be charged the full cost if the book is returned at the end of the year and has sustained more damage than we would reasonably expect (e.g., ripped pages, marked up pages, etc.).
Book Rental Fees:
Math: all grades $25
Language Arts: all grades $5
Other Materials:
These materials are from independent publishers or vendors and have been purchased by the school on behalf of the students. They will be billed to your account.
FRENCH/SPANISH:
All Grades – between $8-$20
TECHNOLOGY/COMPUTER SCIENCE:
6th Grade – $15
MIDDLE SCHOOL MUSIC MATERIALS FEES:
Concert Band, String Ensemble, Chorus – $40
Guitar/Ukulele, Keyboards, Making Music – $15
The Park School is committed to taking action toward diversity, equity, and inclusion, and one option for action is supporting Black-owned businesses. We hope that you will consider purchasing books for this school year from a Black-owned independent bookstore. The lists below of stores all over the U.S. can help you in that process. You might consider contacting a shop in a community to which you have a connection. Remember to give yourselves and the stores some lead time to process your order.
Here is a link to an extensive list at the website of the African American Literature Book Club.
And here is a link to the AALBC list sorted for stores that have an online presence.
REVIEW SUMMER READING:
Browse through the lists of suggested books for summer reading on our summer reading website.
Choose ONE book to read over the summer. Don't see something you want to read on our website? You can choose a book to read that is not listed on the summer reading website.
Click here to fill out a form identifying your summer reading choice.
Get reading or listening to your book!
GET A LIBRARY CARD:
For research purposes, all Park students are asked to have a Baltimore County Public Library Card. You do not need to be a resident of Baltimore County to register for a card. Click HERE to register.
COMPLETE THE CAFETERIA PURCHASE LIMITS FORM:
Click here to set monthly purchase limits on your child's cafeteria account. (Note: prior limits set will remain in effect unless you resubmit this form.)
COMPLETE ALL MEDICAL FORMS AND HEALTH INFORMATION:
Complete your child's online medical forms. A fully completed Medical Statement must be on file for your child to participate in athletic activities (including gym class and after school athletic practice). To check the status of your child's forms, log in to your Magnus Health Portal.
ORDER PHYSICAL EDUCATION UNIFORMS:
All Middle School students are required to wear the Park PE uniform shirt and black shorts/leggings/sweatpants to gym class. Now is the time to order shirts in order to have them in time to participate in physical education at the start of the year. Please note: students will not be able to participate in PE classes without the proper uniform — a gray "PARK BRUINS" shirt and a set of black bottoms. The shirt purchasing site will be open until August 14, 2023, at close of business. Shirts will be available for pick up in the Middle School Commons for all new Middle School students attending orientation on August 29, and August 30 for all others. Students should have at least one shirt; two shirts are recommended.

If you already have a Park PE uniform shirt (gray "PARK BRUINS"), there is no expectation that you purchase one anew. Black shorts are available via the Park Store Online — or any comfortable black athletic shorts, leggings, or sweatpants will suffice.)
REVIEW AND COMPLETE THE STUDENT EMAIL AND ACCEPTABLE USE PACKET:
Parents and students should sit down together to read and discuss the Acceptable Use/Gmail Permission Form. It should be completed by Tuesday, August 29. If you have more than one child in Park's Middle School, a separate form must be completed for each child. Please contact Samira Phillips, Middle School Technology Coordinator at sphillips@parkschool.net if you have any questions or concerns.
REVIEW AND UPDATE (IF NEEDED) THE PARK SCHOOL DIRECTORY:
The Park School Directory will be accessible through the Veracross portal. In order to ensure we have the most up-to-date information for the directory, please update your information in the Veracross portal by Monday, August 21.
UPDATE GRANDPARENT INFORMATION:
The Veracross portal includes a section in the "Family Update Form" called "Grandparents." By updating contact information for grandparents, you will enable Park to share community news periodically, and invite grandparents to future events and other community activities.
---
Middle School Orientation 2023
The goals of orientation are to welcome our new students to Park and to help our returning students make the transition back into "school mode." This year's orientation will include multiple sessions on Tuesday, August 29, focusing on: tech set-up, organization, community living and learning, tips for managing their digital lives, review of our harassment and device-usage guidelines, and more. Most importantly, students will have opportunities to meet their teachers and advisors. If you have any questions, please reach out to our Middle School Dean of Students, Shrijana Puri at 410-339-4148 or spuri@parkschool.net
Tuesday, August 29, 2023 — 8:30 a.m. – 3 p.m. (two start times)
All New Students and 6th Grade Orientation
8:30 a.m.: All new 6th, 7th, and 8th Graders and Buddies arrive
9:30 a.m.: All other 6th Grade students arrive
Today's events are for all NEW 7th and 8th Grade students, and ALL 6th Grade students only. Please bring a day pack and a bottle of water, hand sanitizer, and sunscreen. Pizza lunch will be provided. Drop-off and pick-up at the front of the school.
All New Students and 6TH Grade Orientation Agenda:
Time
Activity
8:30 AM
ONLY New 6th, 7th, and 8th Graders (and their Buddies)
Donuts Social & Folders (MSC and Middle School Deck)
Take Student Photos
Meet and Greet Faculty and Student Buddies
9:00 AM
Ice Breakers with Middle School Government
9:30 AM
6th Graders Arrive
Welcome students!
(Meyerhoff Theater)
10:15 AM
6th Grade Main Visits with Teachers
Introductions
Walk Wednesday's Schedule
Quick tour (Middle School Office, Cafeteria, Nurse's office, PE Locker Rooms, etc.)
Wrap-up with Q&A session

7th/8th Technology Session
11-12:20 AM
Power Sessions* 1-2

7th/8th: Community Living
12:30 PM
Lunch with Advisors
12:30-1 PM: Eat Lunch/Relax
1-1:20 PM: Set up lockers
1:30-2:20 PM
Power Sessions* 3-4

7th/8th: Library and Community and Inclusivity
3 PM
Dismissal – Theater Overhang
*Power Sessions include: Technology, Community and Inclusivity, Library, Community Living, and Ready2learn
---
Middle School Guidelines for Digital Device Usage
Phones
Students may bring phones to school, but are only allowed to use them before 8:30 a.m. and after 3:15 p.m. During the school day, phones should be kept in students' lockers and turned off. Mobile phones that ring, buzz, send or receive messages, disrupt class, or are used during the school day will be confiscated, turned into the Principal or Dean, and returned at the end of the day. Repeat offenders will have their devices returned at the end of the week. Parents should refrain from texting or emailing their child during the day and should remind their children that they may communicate with home (or parents with them) through the Middle School Office. Important messages can be relayed to your child through the Middle School Administrative Assistant, Natalia Johnson (410-339-4185).
Laptops and Other Devices
All students will need to bring their own laptop with a built-in webcam to and from school daily. A Windows PC or Mac laptop is required. Chromebooks, iPads, and other tablets are not sufficient as primary school devices for Middle School students.
Minimum laptop specifications:

13" minimum screen
i5 processor
8GB RAM
128 GB minimum hard drive (16 GB minimum if a Chromebook)

All students should have a lightweight headset (headphones and built-in microphone) or earbuds that can be connected to their laptop or iPad, for use both in school and at home. Headsets may come with stereo plugs or USB connections; make sure that the headset will work with your child's device. An adapter may be needed. We do not require a specific brand or model, but here are a couple of examples to guide you: Cyber Acoustics Stereo Plug Headset, Logitech USB Headset.
Students will also need a USB to USB-C adapter for peripherals such as a document camera if their device does not have a standard USB port.
Students should have a spare charger and cable to keep at school in order to charge their device during the school day.
Should a student forget their device, or the student's device is unusable for some reason, the IT office has a limited number of Chromebooks available to borrow for that school day (based on availability). Chromebooks, along with the accompanying charger, must be returned at the end of the school day, prior to 4 p.m. when the IT office closes. Should a student need to borrow a device for longer than that day, the Long Term Device Rental Google Form must be filled out and submitted.
All student use of devices, whether personal or school-owned, must abide by the rules in our Acceptable Use Policy. It is our expectation that student-owned laptops will be brought to school only for academic use and will not be used for recreation or entertainment purposes at any time during the school day. Other electronic devices, such as e-readers, cell phones, iPods, mp3 players, or game systems may not be carried or used during the school day except at the discretion of individual teachers for classroom purposes. Students who do not respect these policies will have their devices confiscated, turned into the Principal or Dean, and returned at the end of the day. Repeat offenders will have their devices returned at the end of the week. Please note that for self-owned devices, students should bring their own adapters, power supplies, cables, etc. Students wearing smart watches should follow the above guidelines and only use them as tools for keeping time during the school day.
Device Usage During After Day
From 3:15-6 p.m., there are two places where students may use their personal devices:
in the library for completing homework assignments.
in the Middle School Commons for work or entertainment purposes.
Any devices that are used outside of the Commons or Library will be confiscated, turned into the Principal or Dean, and returned at the end of the day or week.
At Home
While the Middle School does its best to monitor digital device usage at school, we cannot do this at home, as only parents can. We recommend that parents regularly check their children's phone, tablet, or computer, remove inappropriate apps, and that they speak with their children about what they post. Kids should know that everything they put online or send in a text or email becomes public information, regardless of how private they think it is. Our biggest concern is their safety, and this can be communicated by creating clear guidelines at home, such as a family Acceptable Use Policy (AUP). Below are links to several Home Media Agreements that you can customize as appropriate for your family.
Have a Family Social Standards Agreement
Making a Family Media Use Plan
The Middle School's complete Digital Device Policy can be found in your Veracross portal.
---
Morning Drop-off and After School Procedures
Morning Drop-Off
All students are to be dropped off in the Middle/Upper School carpool lane next to the pond. Do not use the Lower School or Athletic Center entrances unless you are instructed to do so for a field trip.
Dismissal
Students may not leave campus without supervision, either during the school day or after school. They must be picked up at the end of their day by a parent, guardian, or authorized adult, unless they live in an adjoining neighborhood and have express permission from their families to walk home.
Dismissal begins at 3:15 p.m.; all students will have 10 minutes to gather their books and materials, at which point they must report to carpool, after school athletics or activities, or After Day.
Bus riders need to move swiftly to the Lower School bus circle at this time. Buses depart at 3:25 p.m., sharp. Those getting picked up should proceed to the carpool area (next to the pond). Those staying at school will be required to sign in to After Day by 3:25 p.m. in the Middle School Commons.
If you are interested in exploring transportation options, please visit our Transportation page.
Staying After School
Those staying at school have two choices:
Participate in a supervised activity (sports team, tutoring, music lesson, club, etc.). Once these activities or practices end, students must either go home (wait in the carpool area), or check in with After Day in the Middle School Commons.
Attend After Day in the Middle School Commons. All students must sign in with the After Day monitors. Only after checking in with the monitors may students go to the library for Study Hall, play in a gym or simply hang out in the Commons or other approved locations. Monitors will regularly check each location.
WHEN PICKING UP YOUR CHILD:

Pull into the lot and dial 410-339-7070
Tell our supervisor the name of your child (first and last, and their grade level).
Tell the supervisor your relationship to the student.
The supervisor will radio our Director, who will then locate your child and send them out to you.
It is the students' responsibility to update the sign-in sheet with their current location so that we can find them quickly. Please note that students will be monitored during their time in After Day, but not directly supervised at all times.
IMPORTANT: After Day is not day care. It is a cost-free convenience provided for families who are unable to pick up their children after school. And while Park is able to sponsor athletics, various clubs, and some after-school care, we are not able to provide enough space or supervision for every Middle School student to stay at school at the end of the day. As much as we love that the kids want to stay at school, PLEASE RESIST YOUR CHILD'S REQUESTS TO STAY LATER THAN NECESSARY AND PLEASE PICK YOUR CHILD UP WHEN THE SCHOOL DAY ENDS OR AFTERNOON ACTIVITIES ARE FINISHED. Parents are encouraged to plan play dates where groups of students can hang out at home.
Pick-Up
Students must be signed out by a signature or a phone call. Parents picking up children after normal carpool hours (3:25-3:50 p.m.) should do one of the following:
Park the car and walk into the Middle School Commons to sign out your children.
Call the front desk (410-339-7070) and ask that your child be sent to carpool. You will be asked your name and relationship with the child.
No food will be provided during After Day. Students should bring their own.
Trust
These guidelines will help us keep the students safe and accounted for, and we'll need parental support for this to happen. Middle School students who have difficulty following these guidelines will be asked to leave school at 3:15 p.m. or at the end of their athletic practices/rehearsals. Parents will be expected to pick up children who cannot follow our Rule for Community Living.
---
Athletics and Arts (Music)
Athletics
Our collective goal is to provide positive and significant experiences for all students who participate in our program. There is no better place to learn life's lessons than on an athletic field, court, or course. Cooperation, leadership, emotional control, confidence, resilience, and commitment are just a few of the numerous benefits that participation on a team can help instill or develop. We want to challenge students to take chances with advanced training techniques, with new sports, and with new roles on teams, and also to compete outside their comfort zones. As you hopefully prepare for your Upper School career as a student-athlete, we encourage everyone to try a sport this year, regardless of experience. There is a place for everyone in our program!
Fall Sport Offerings:
This fall we offer teams in:
Cross Country (coed)
"A" and "B" (number dependent) Soccer (boys)
"A" Soccer (girls)
"A" Field Hockey (girls)
Students wishing to participate in P.E. class and athletics must have completed health forms on file prior to arriving on campus. No student will be allowed to participate without these completed forms.
Mark your calendars for Wednesday, September 6 at 7:15 p.m. via Zoom for our Fall Parent/Coaches Meeting, where coaches will present their experience, coaching philosophies, and expectations for the season.You will also hear from the Athletic Directors about programmatic details and expectations.
Donate or Borrow Used Sports Equipment: Anytime this summer or fall, bring your lightly used shin guards, hockey sticks, cleats, etc., to the Athletic Center for donation. Families and students who are interested in trying out for a sport, but who don't want to make an initial investment in equipment, should call Dia Clark or Robin Lowe at 410-339-4140 or 410-339-4150 or email athletics@parkschool.net to see if equipment is available.
Arts (Music)
After-School Music Program (ASM): A variety of music lessons are offered after the school day for an additional fee. Weekly instruction is offered with a variety of instruments. These lessons are in addition to the student's regular participation in music class.
For more information, contact Chris Peterson at afterschoolmusic@parkschool.net.
In addition to their three years of ensemble-based curricular music study, all Middle School students are eligible to participate in any or all of our audition-based, co-curricular musical ensembles that meet before or after school. Music teachers will provide more information about co-curricular audition dates and sign-ups during music classes in the first week of school.
Co-curricular Ensemble Audition Requirements: Click here for requirements.
Chamber Strings and the B#s: This link will take you to a folder with PDFs of the suggested audition pieces for Chamber Strings and the B#s. Students have the option of playing the suggested piece, or a piece that they have already been working on outside of school. Students will also be asked to play a scale of their choice, and to sight read a provided excerpt.
MS Jazz Ensemble: Guitarists, bassists, and pianists who would like to audition for Jazz Ensemble will be asked to play a song with chords. Drummers will be asked to play a swing rhythm and a rock rhythm. All students auditioning will be asked to sight read a provided excerpt.
| ENSEMBLE | DAY of week | TIME | DESCRIPTION |
| --- | --- | --- | --- |
| Middle School Jazz Ensemble | Wednesday | 3:15–4:15 p.m. | This auditioned group learns music from the classic eras of jazz and explores contemporary styles. Playing traditional and non-traditional jazz instruments, students focus on playing and improvising in an ensemble. |
| B#s (B Sharps) | Wednesday | 7:30–8:20 a.m. | The B#s is our Middle School auditioned soprano, alto, baritone, a cappella group. They work on advanced choral repertoire and have more performance opportunities than the Middle School Chorus. |
| Chamber Strings | Friday | 7:30–8:20 a.m. | Chamber Strings performs advanced popular arrangements, chamber orchestra, and small chamber group repertoire for a variety of events throughout the school year. Students auditioning for the Chamber Strings should have at least one year of experience on their instrument and, if in sixth or seventh grade, be enrolled in the Strings class. |
---
Opportunities, Reminders & General Information
Opportunities
Friday Afternoon Yoga
Our lives are full and we all need ways to boost our own well-being. Gather with us on Friday afternoons this fall from 3:30-4:15 p.m. in Ms. Freas-Kostic's classroom for a chill yoga practice that feels just right at the end of a school week. Our yoga practice uses the body, the mind, and the breath to help you understand how to balance your energy, deepen your rest, increase your awareness, and even grow your confidence. Each time we practice we will learn about the philosophy of yoga and its cultural roots and branches. The session will run September 8–October 20. All levels of experience are welcome, including newcomers. The activity is free of charge, and the first eight students to sign up will be accepted. Use this form to sign up.
Math Circle
Have you ever wondered what tic-tac-toe would be like if you played it on the surface of a donut? Do you like thinking about infinity? Most of all, do you like playing around with problems and puzzles? Math Circle is a club devoted to investigating mathematical questions and looking for patterns. It's a chance to get some exposure to topics not typically taught in the classroom. All problems are exploratory, so no particular background is required. Students are welcome to join at any time of year.
Students will receive more information about Math Circle in their math classes in the fall. Interested students will receive a survey indicating meeting times that work well for them, and we'll begin our regular meetings in mid-September. In the meantime, please direct questions to Mimi Cukier, mcukier@parkschool.net.
Robotics
Technology Coordinators Tara Northcott and Samira Phillips will lead this year's robotics team, which will run from September through January. Meetings for the club will be held from 3:20-4:30 p.m. on Tuesdays and Thursdays. To accommodate students with multiple after school interests and to achieve our goals for the team, students must attend at least one meeting per week to participate. During the five month season, students will work together to design and build a robot to compete with other teams in regional competitions, which will take place two weekends in December and January including one at Park on Saturday, December 9. The activity is open to all Middle School students. Please note: there is a suggested donation of $150 to participate in this activity, which will include a robotics t-shirt. For more information, to volunteer, or to sign up, please complete this form or contact Tara Northcott at tnorthcott@parkschool.net. You can learn more about FIRST Tech Challenge at https://www.firstinspires.org/robotics/ftc.
Puppetry
This enrichment class will meet every Wednesday from September 6 until October 25. Students will explore the many styles of puppetry that have been developed throughout the world, as well as storytelling, craft work, cooperative play, artistic principles, light, and sound. We'll make hand puppets, a puppet theater, and scenic backgrounds, and students may experiment with shadow puppets, rod puppets, ventriloquism, simple marionettes, and super-size event puppets.
Scary Stories in the Woods – After School Performance Class
(6th and 7th Grade Outdoor Theater)
Let's perform in the woods! Join this after-school performance group that will choose from a group of "scary" scenes and poems (from Shakespeare to Poe to Shel Silverstein) to perform in the Park School woods for an audience on October 27 at 4:30 p.m. This class/rehearsal group will meet on Monday and Friday afternoons from 3:30-5:15 p.m. from September 1 until October 27. Please note there will be no rehearsal on Friday, September 15, Rosh Hashanah. All participants MUST commit to every Monday and Friday from 3:30-5:15 p.m. Students will work together to design our performance, choose our costumes, and create what we hope will become a Park school tradition! Please note that this class requires a fee of $225, which will cover royalty payments for our scenes, a custom designed T-shirt, and small costume items. We'll need a minimum of 10 participants in order for this activity to run. CLICK HERE TO SIGN UP. Remember that this is a nine-week commitment.
The 8th Grade Production (November 27- March 7)
Gina Braden will be inviting all students and families interested in participating in the production to an informational evening meeting in the fall. There is no need to decide now whether or not your student can participate. Stay tuned for more details.
Keep in mind that many of these activities meet several times per week and participating in all of them is not possible. For example:
Athletic teams meet four or five afternoons per week.
B#s and Chamber Strings meet once a week before school, and Jazz Ensemble meets once a week after school.
Coed Robotics meets two afternoons per week.
8th Grade Production meets five afternoons per week during the winter and early spring
How often do activities meet?
| 4-5 DAYS/WEEK | 2 DAYS/WEEK | 1 DAY PER WEEK |
| --- | --- | --- |
| Athletics (any season) | Fall/Winter Robotics (September-December) | Before School Music Ensembles (B#s and Chamber Strings) |
| 8th Grade Production (November 27 through March 7) | Spring Robotics (more info. coming soon) | After School Music Ensembles (Jazz Ensemble) |
| | Scary Stories in the Woods (Sept. 1-Oct. 27) | Private Lessons, tutors, religious school, etc. |
| | | Math Circle (Tuesday) |
| | | Puppetry (Wednesday) |
| | | Yoga (Friday) |
In addition to the activities named above, many students have other responsibilities after school (private lessons, religious school, tutoring, etc.) as well as doctor's visits, family trips, etc. It is important to consider that adolescents need unstructured time to unwind and to allow their creative minds to process the events of the day.
We've identified combinations of activities that work well together as well as ones that do not. CLICK HERE TO SEE WHEN ALL MIDDLE SCHOOL ACTIVITIES MEET, and then use the table below to consider which activities your children might participate in this year. No commitments are required until after school starts.
COMBINATIONS THAT WORK BETWEEN 3:15–5 p.m.
COMBINATIONS THAT

DO NOT

WORK BETWEEN 3:15–5 p.m.
Athletics + Jazz Ensemble
AT ANY TIME: Athletics + any 2 other afternoon activities (including Jazz Ensemble, Scary Stories, religious school, after-school tutoring, etc.)
Athletics + any single-afternoon activity
Winter/Early Spring: Have a lead role in the 8th Grade Production + Athletics
Athletics + an Ensemble/Non-Lead Role in the 8th Grade Production*
Athletics + Robotics (student would miss robotics 1x/week)
Morning Music Ensembles + any afternoon activity
The fall athletics season begins in September and ends at the beginning of November.
The winter season begins mid-November and ends at the end of February.
The spring season begins in March and runs through late May.
---
Reminders
Arriving Late, Missing School, or Leaving Early
Please call Natalia Johnson in the Middle School Office as soon as you know that your child will be absent from school (410-339-4185). You may also send her an email at njohnson@parkschool.net. Similarly, communicate with Natalia if your child will be picked up early from school.
Technology
Students in Grades 6–12 will need to bring their own laptop (PC/Mac) or Chromebook with a built-in webcam to be brought to and from school.
Morning Announcements
Each day, all parents will receive an email containing the day's Middle School morning announcements. (Click here if you would like to opt out.) They are updated daily and contain important information about life in the Middle School. Advisors read announcements with students during advisory time. Typical announcements will include changes to our regular schedule for special events or assemblies, student government information, early dismissals for sports, lost and found, and much more. Click here if you would like to opt out. Morning announcements may also be accessed through the Middle School Resources page of the Veracross parent portal.
Forms
Many forms can be found in the resources section of the Veracross portal. When logging into the portal, click on All School Resources, select Middle School, and scroll down to the "Forms" section.
Appalachian Challenge
Appalachian Challenge, builds students' confidence and tolerance for adversity. Skills evolve through a cycle of three stages: communication, cooperation, and trust. Skill development is balanced with challenges of increasing complexity and difficulty through individual and group challenges. Director of Challenge and Physical Education teacher Jeremy Smith will offer Challenge activities as part of our 8th Grade Physical Education program during the school day. These activities will also be integrated into the 6th grade orientation and the 7th grade SEAL course. There is no need to enroll in the course.
No Food Deliveries, Please
Students may not order food to be delivered before, during, or after school.
Student ID Card and ID Number
All students are given a 7-digit student ID number that they can use in lieu of their student ID card to make purchases in the Cafeteria. This number is the same as the number on their ID card and will be communicated to each student along with their locker combination at the beginning of the school year. It can also be found on students' home pages when they log in to the Veracross portal.
Different Schedule on First Day of School
On the first day of school, all students should meet with their advisors in HOUSE at 8:30 a.m., then proceed to the Meyerhoff Theater for a special assembly.
---
---
General Information
Reality Check
Watch this nine-minute video for an insider's view of life as a teenager.
---
Library Programming
The library team is excited to welcome students back this fall, and to continue to offer opportunities for students to access our rich and diverse collection of books for both personal and academic purposes. In addition to helping all Middle School students access print and digital resources when they are working on class projects or research, library classes are taught to the 6th Grade on a rotating schedule throughout the year. The library team is looking forward to keeping our community connected to books, research, and learning, and our Middle School culture of reading.
---
Veracross Calendar
Logging into the Veracross Parent Portal will allow you access to the Veracross Calendars. Your Household Calendar will display important events and dates that specifically affect members of your household. For Middle School students, it will also display their classroom assignments. The School Calendar will display everything that's on the school's public calendar. You have the ability to subscribe to each of these calendar feeds and have the dates imported directly into your online calendar system (Google, iCal, or Outlook). For information on how to subscribe, click here. Try it out and know that you can always unsubscribe!
---
Backpacks that fit!
Not all backpacks fit in the student lockers. Before purchasing a new backpack this fall, be sure that the make and model will fit! Any backpacks or other personal items left in the hallway will be moved to the Lost and Found.
Height of lockers: 29 inches
Width of lockers: 14 inches
Depth of lockers: 16 inches
---
Communications Guidelines for Families
At the beginning of the school year, you can expect to hear from your child's advisor who will establish the best ways for you to communicate throughout the year (by email or phone). At Park, we have determined that 24-48 hours is a reasonable amount of time for school personnel to respond to parent emails or phone calls. Messages left after 12:45 p.m. on a Friday may not be answered until the following Monday. Texting teachers or advisors is not appropriate unless specific permission is given by the school employee. In an emergency, families should call the Middle School Principal, Joshua Wolf, or a school counselor if necessary.
If or when you have questions or concerns about your child in a particular class, please communicate directly with the faculty member involved, who will be in the best position to help sort things out. It is best practice not to discuss significant questions or concerns by email or text. If you send us such a message, we'll kindly email or call to set up a time to talk directly. Thank you!
---
Student Support: Counseling and Wellness
A Message from the Counseling and Wellness Office
Dear Students and Parents,
Welcome to the 2023-2024 academic school year!
A new school year is always a refreshing opportunity for new beginnings, and this year is no exception.
Please join us in welcoming our newest School Counselor, Tucker Snow, to the Counseling Team. Prior to joining Park, Tucker served as a School Counselor at The John Carroll School in Bel Air, Maryland, since 2018. Tucker is a Maryland State Certified School Counselor with an M.S. in School Counseling and Preventative Mental Health from Creighton University. He has a passion for, and experience in, coaching volleyball and lacrosse.
Tucker joins Kara Ker in supporting Park Middle and Upper School students. Amy Ancona continues to support the Lower School as the Lower School Counselor. Edwin Gordon, Counseling Instructor, continues to support students across all three divisions.
The entire Counseling and Wellness Team continues its commitment to providing the high-quality social and emotional programming and support that you are accustomed to, and is excited to bring new, fresh initiatives and approaches to the school community. We are also working diligently to ensure as smooth of a transition as possible for students and families.
Here is what you can expect from the Counseling and Wellness Team:
Meet and Greets: Brief, individual sessions throughout the fall with students who are new to Park.
Human Sexuality Education: Park's Human Sexuality Education is taught by Debbie Roffman in the Lower School and Ashley Edwards in the Middle and Upper School. Holistic in nature and comprehensive in scope, Park's trained health educators focus on healthy social and emotional development, healthy relationships with self and others, and community health and well-being.
Counseling: The role of Park's school counselors is to promote wellness, to facilitate student social and emotional development, and to work with individual students and families to address social, emotional, and mental health challenges that affect students' learning and development. We provide confidential, brief counseling support for students and families. Please contact us to request support services at any time. Lower School families, please contact Lower School Counselor Amy Acona at aancona@parkschool.net or 410-339-4129. Middle and Upper School families, please contact Kara Ker at kker@parkschool.net or 410-339-4158, Tucker Snow at tsnow@parkschool.net or 410-339-4117, and Edwin Gordon at egordon@parkschool.net or 410-339-4170. Please note that we are not able to support requests for students to participate in teletherapy with community clinicians while at school.
Park Connects Workshops: Our Park Connects Workshops are hallmark evening events where parents can gather, share, and hear from speakers about the latest and most salient developmental topics for raising healthy children and adolescents today. Park's counselors and human sexuality teachers lead the Park Connects Parent Education Workshops for parents at each grade level throughout the school year. Each division (Lower, Middle, and Upper School) each have their own Park Connects nights. Please refer to this link for more information and your divisional Park Connects Summit dates: https://parkschool.net/park-connects/.
Referrals: From our robust professional network we are able to refer you to community providers for both assessments and longer term treatment.
We are excited to see you back on campus soon! We hope that you will make time to become acquainted with us this academic year. If you or your family have concerns that you would like to discuss confidentially before the year officially begins, we encourage you to reach out in late August.
Warmly,
The Counseling and Wellness Office (Amy, Ashley, Debbie, Edwin, Kara & Tucker)
---
Tutors
Our Middle School Learning Resource teacher, Betsy Gerding, maintains a referral list of tutors who are approved to work on Park's campus, and she can help pair your child with the appropriate support if necessary. Only vaccinated tutors will be allowed on campus. Please call or email Betsy Gerding if you have questions about tutoring (bgerding@parkschool.net or 410-339-4119).
---
Lost and Found
Every day, students lose items here in the Middle School. The lost and found is often filled beyond capacity and many of the items go unclaimed. Please be sure to label all notebooks, books, calculators, pencil cases, lunch boxes/bags, water bottles, jackets, gym uniforms, sports equipment, musical instruments, etc. If we are able to determine an item's owner, we will do our best to ensure it is returned.
---
Student Conduct and Discipline
All Middle School advisors and students will be reviewing Park's Student Harassment Policy, as well as the school's General Principles of Conduct and Middle School Disciplinary Process and Procedure document. Please review these documents yourselves and feel free to call Joshua Wolf (410-339-4186) with questions. Also speak with your child about the importance of respect for others.The one-page Student Harassment Policy and the Principles of Conduct and Student Discipline document can be found in the Veracross portal. When logging into the portal, click on All School Resources, select Middle School, and scroll down to the "Forms" section.
---
Park Bulletins
In an effort to streamline and improve communication between school and families, Park sends out a bulletin every Thursday for each division. The Park Bulletins are sent, as links, to all families and Park staff and contain news and information from the school, teachers, and community. To reduce the number of emails you receive, we ask that you scan the Bulletin weekly to be kept apprised of campus happenings and the latest changes to the calendar. The first Bulletin for 2023-24 will be sent to you at the start of the school year.
---
Permission to Be Away Form
This form is used for planned absences. It is the student's responsibility to complete this form, listing all classes that will be missed during the absence. The student must turn in the completed form to the Middle School office at least one day prior to the planned absence. A Permission to Be Away Form can be picked up in the Middle School Office (a paper copy) or found in the Veracross portal. When logging into the portal, click on All School Resources, select Middle School, and scroll down to the "Forms: Sign and Return" section.
---
Middle School Trips
Curricular field trips and outdoor education trips at Park aim to strengthen the social, emotional, moral, and practical dimensions of each student's character, while simultaneously providing opportunities to extend classroom learning. Our program is designed to create transformational moments in children 11-to-14-years-old by taking students briefly beyond their comfort zones to a space where adaptation to changing circumstances is required for success, the confidence to thrive in unfamiliar situations is discovered, and bonds of community are deepened.
The fall (6th grade) and spring (7th and 8th) grade-level camping trips will be celebratory experiences where kids explore the natural world, build community, and collaborate with their peers. Detailed trip information will be made available to parents prior to travel. Every effort is made to accommodate the individual needs of a child and safely manage medical conditions. Students' participation is deeply valued and participation is expected.
Tentative overnight trip dates:
6th Grade: October 5-6, 2023
7th Grade: April 18-19, 2024
8th Grade: May 30-31, 2024
---
Field Trip Permission Forms
The Off-Campus Activities section of the enrollment contract includes authorization for the student to participate in off-campus activities; however, in advance of each field trip parents will be provided with an Off-Campus Activity Attendance Form to review and sign. Signing the form confirms that a parent/guardian is informed of the destination, duration, the mode of transportation, and any special instructions.
---
Save the Dates
DAY
DATE
name
description
Thursday
August 31
Back-to-School Night
6:15–9:30 p.m. (details will be sent via email)
Monday
September 4
Labor Day
SCHOOL CLOSED
Monday
September 18
8th Grade
Parent Coffee with Joshua Wolf
9–10:30 a.m.
Virtual
Monday
September 25
Yom Kippur
SCHOOL CLOSED
Throughout September
Auditions for Co-Curricular groups
You will be able to sign up for an audition slot during the first week of school. Here is a link to the audition requirements
Tuesday
October 17
6th Grade
Parent Coffee with Joshua Wolf
9–10:30 a.m.
Virtual
Friday
December 1
Parent Conferences
SCHOOL CLOSED
Friday
March 1
Parent Conferences
SCHOOL CLOSED
Please stay tuned for important Music dates at the start of the 2023-24 Academic Year.
Note: All dates and times are subject to change. Please subscribe to your Household Calendar through Veracross for a complete and up-to-date calendar of events.
---