We all have been learning to live with Covid as a presence in our lives. At school, we are particularly mindful of the impact of Covid on our learning community and we seek to minimize risk, and maintain a safe, healthy environment while living and learning together.
Throughout the year, we will be monitoring community and regional data, as well as new guidance from the CDC and Maryland Department of Health (DOH).
Please note: As has been the case these past two and a half years, we will ask families to remain flexible and to work closely with us as we anticipate and respond to any changes the year might bring.

In the event that guidance changes or if we are designated by the CDC as being in a High/Red Covid Community level, there is an outbreak in the community, or a new variant emerges that presents a new or increased risk, we may adapt our approaches and implement new plans.

As we begin the year, here are the protocols/approaches that will be in place:
Masking
We plan to begin the new school year as mask-optional indoors for students, employees, and visitors in most settings. We will be mask-optional outdoors, as well.
Students, employees, and visitors are welcome to wear masks if they so choose. Our faculty will support any student who wants to wear a mask at any time.
When there are large numbers of students or adults in high concentration (e.g. when a division gathers in the Meyerhoff Theater for assembly), we will be masked.
All students should bring at least two well-fitting, multi-layered masks to school. (One to wear in settings where they are required; and one as a back up.)
As noted above we may modify our masking procedures during the school year as conditions change.
---
Note: Individuals returning from isolation per the guidance of our nursing office should wear a KN95, N95, or equivalent at all times through Day 10.
Covid Surveillance Testing
Aligning with CDC and Maryland DOH guidance, we will not start the year conducting routine Covid surveillance testing. That is, we will not be testing the school population on a weekly basis.
We will be maintaining our relationship with the lab we partnered with this past school year (Capital Diagnostics) in the event we need to resume testing or conduct a larger scale test of our population on demand.
Our nursing office will use testing as a diagnostic tool; and will counsel families if and when to use rapid or PCR testing.
We strongly recommend that families have a set of rapid tests available to them at home. The Health Suite has a supply of iHealth rapid tests available if needed; families can contact the school nurse at nurse@parkschool.net and the tests can be sent home with their student.
Daily Covid Screening
It remains important that we monitor for symptoms — particularly symptoms common to upper respiratory infections.
To support the monitoring and reporting of symptoms, we will continue to require daily screening via the Magnus Health app. All students (and employees) must screen for symptoms every morning prior to coming to school. (Parents conduct the screening.) For the convenience of our community members, we have simplified the daily attestation in the app this year. It is important, nonetheless, that we pay close attention to symptoms and that students do NOT to come to school if they are experiencing any symptoms of a upper respiratory infection, fever, gastrointestinal complaints (vomiting, diarrhea, etc.), or a new and unexplained rash.
In the event of symptoms, families will consult with the Director of Nursing who will advise based on Department of Health guidance.
If you haven't done so already, install or update the Magnus Health app on your smart phone. (Magnus Mobile v2, found in the Apple Store, or Magnus Health, found in the Google Play Store.)
If you don't already have your child set up in the mobile app, create a username and password in the Magnus Health Portal by logging in to the portal and hovering over your name at the top left corner of the window. Choose "Change Credentials" and pick a brand new username and password. (This does not change either your Veracross login or your Magnus Health Portal login; only the Magnus Mobile App login.)
To complete the screening each morning, log in to the mobile app and find the "Covid-19" button for your child. (The menu button at the top left of the app window should allow you to toggle between children should you have more than one at Park.) Screen your child and answer the question on the survey and tap the "Save" button. You should be greeted with a green "GO" sign or a red "STOP" sign. If you get the STOP sign, please keep your child home and be in touch with our school nurse (410-339-4149 or nurse@parkschool.net).
If you are new to this process (or even if you aren't), we recommend logging into the mobile app today so you won't have to work through it in the morning the first day of school!
Questions about the Magnus Mobile app or the Magnus Health portal? See the FAQ.
Isolation/Quarantine
The school nursing staff will continue to be advising families on isolation/quarantine in the event of symptoms and/or a positive Covid test, referencing the latest Department of Health guidelines.
Generally, when someone tests positive for Covid, we will advise, in accordance with current Maryland DOH regulations, that the individual complete five days of isolation and, if symptom-free, a return to school with five days of masking. With the okay to return to school, the student should mask with a KN95, N95, or equivalent during those five days due to the continuing possibility of being contagious.
Notification
In the case of our Lower School, where students tend to be in closer contact for longer durations, the nurse will notify classroom cohorts in the event a student who had been in class tests positive.
For Middle and Upper Schools, in the event that students have gathered in close concentration, the school nurse will make every effort to notify close contacts.
It is important to note here that students who isolate due to Covid will be able to get assignments from their teacher and can participate in asynchronous learning if they are well enough. Otherwise, they should be dedicated to rest and recovery; we will not provide opportunities for synchronous learning, unless the teacher confirms this is possible. Work can be made up following a student's return, just as with any absence due to illness.
---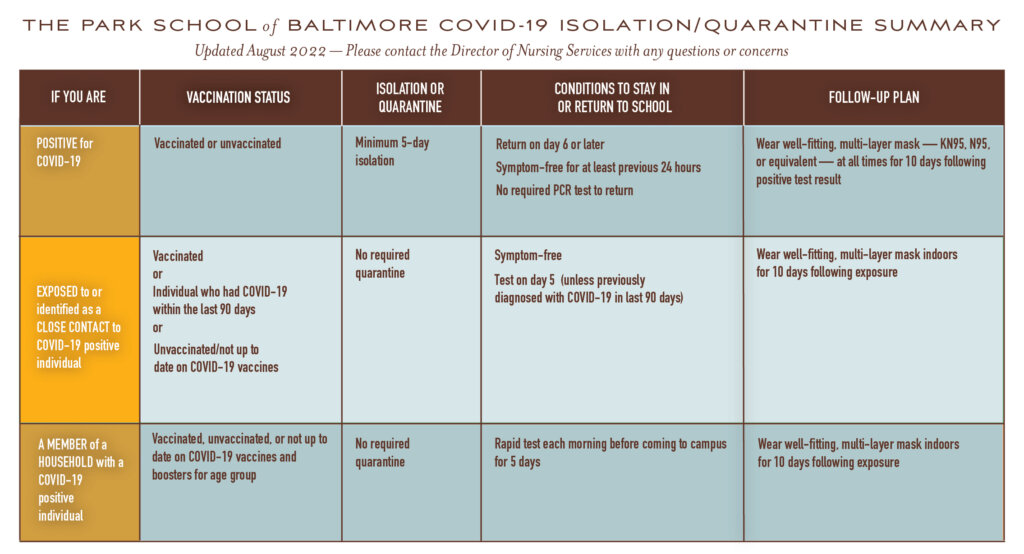 ---
On-campus programming and visitor policy:
We are excited to to return to normal parent/visitor programming on campus (unless, of course, conditions change).
Parents are welcome in the buildings; we will hold in-person, on-campus events like our Back-to-School Nights; guest speakers will appear on campus — although we will continue to use Zoom periodically when it best serves the community (e.g. When we want to welcome a speaker who cannot come to the area; or if the programming presents an opportunity for parents to attend from home, etc.).
Similar to our school-day protocols, parent events will be mask-optional until further notice; and in the case were we have large numbers of people in a space in high concentration, we will require well-fitting, multi-layer masks.
Parents, of course, should self screen and should not come to campus if they have symptoms.
General Practices
The school, of course, will continue to monitor ventilation systems, ensuring adequate air exchange in our indoor spaces; teachers will take students outside as opportunities allow during the day; we will clean surfaces regularly, provide hand sanitizer, and encourage regular hand washing.