Debbie Roffman Responds to The New York Times
Debbie Roffman's insightful letter to the Editor of The New York Times responds to an earlier Op-Ed piece, "The World's Problem With Sex Ed." In this article, author Jonathan Zimmerman argues that globalization has restricted sexual education in schools due to the need to accommodate differing religious and cultural beliefs. In her response, Debbie posits that people share common fundamental values regardless of their religion or culture. What differs is the way in which individuals apply these values to issues regarding sex ed.
Jonathan Zimmerman states: "Schools are central for deliberating the values we wish to transmit to our young. But on the subject of sex, we disagree too fundamentally to arrive at anything like a consensus about what adolescents should learn, know and become."

As a human sexuality educator who has worked with parents across the United States for more than 40 years, I find consensus everywhere I go. There is huge agreement about the human and ethical values adults want young people to bring to all of their decisions in life, including sexual decisions: empathy, compassion, honesty, responsibility, respect, dignity, mutuality, equity, fairness and safety. Schools are no different.

Controversy abounds in the United States over such topics as abortion, the rights of L.G.B.T. individuals, appropriate and inappropriate sexual behaviors, contraception and, certainly, sex education in schools. However, these are not "values," but rather "controversial value-laden issues," to which individuals apply their own unique set of personal values in reaching their point of view.

We do great harm to young people when we can't, don't or won't articulate the difference between "universal values" — the vast common ground that most adults stand on and want young people to apply — and "controversial value-laden issues," which are essential to understand within a pluralistic democracy.

Deborah M. Roffman
The former associate editor for education of the Journal of Sex Education and Therapy, Debbie has written dozens of articles and commentaries for health and education journals and major newspapers. Her work in the classroom and with parents has been featured in the New York Times, Baltimore Sun, Washington Post, Chicago Tribune, Boston Globe, Los Angeles Times, Education Week, Teacher Magazine, USA Today, Parents Magazine, an HBO Special on parenting, and on NPR. She has presented scores of workshops for parents and teachers and frequently makes presentations at schools and conferences throughout the United States and abroad. At Park, Debbie leads the curriculum for Sexuality Education for each division, as well as working with parents through Park Connects and working with her colleagues on grade-level topics.
Back to The Latest
Share
Related Posts
Fall 2023 Production of Shrek the Musical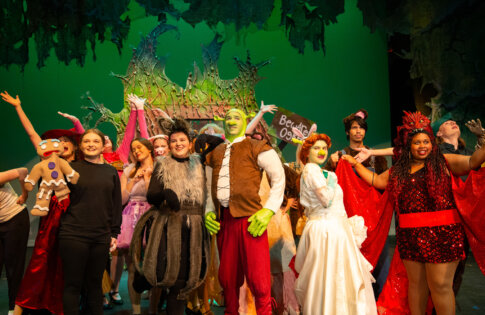 This past weekend was a fairytale! Congratulations to the cast and crew of "Shrek the Musical" for putting on an amazing show!