Drop-Off, Pick-Up, Parking, and More
Drop-off and Pick-up
Please be patient during the drop-off and pick-up process. The first days and weeks of school always bring delays in the system as we navigate the process together. It will get better!
DROP-OFF MAP: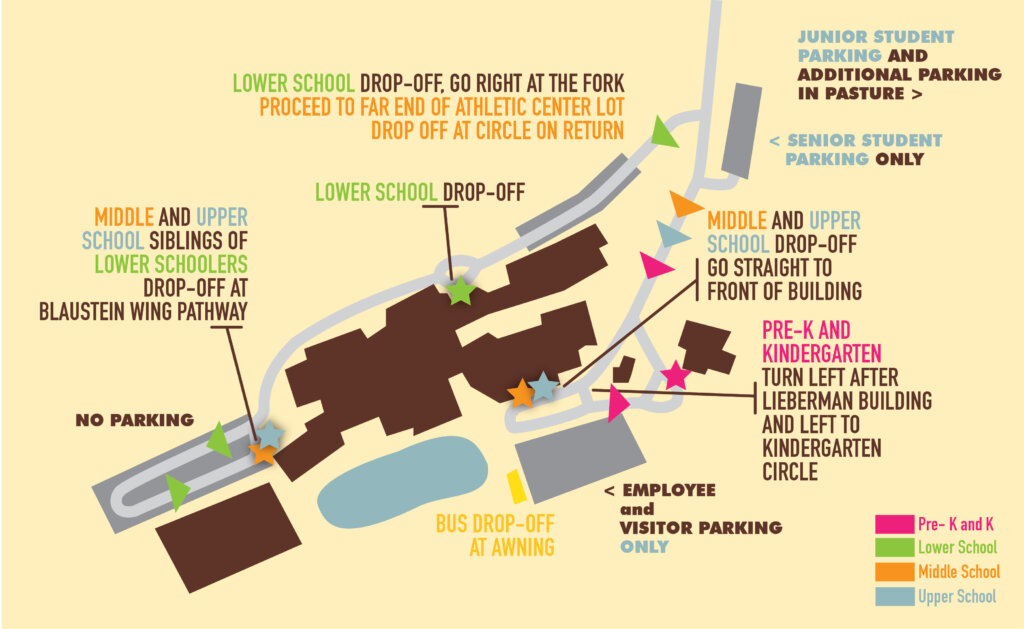 ---
grades 1–5
Grades 1–5 morning drop-off. Lower School students (Grades 1–5) will be dropped off at the Pearlstone entrance (a.k.a. The Lower School entrance or the "bus circle") on the back side of the main building.

Follow the fork on Park School Drive to the right; proceed to the end of the Athletic Center parking lot; circle back and drop off your child at the Pearlstone entrance.

Middle and Upper School siblings of Lower School students can be dropped off at the Blaustein wing pathway (near the former Athletic Center courtyard).

For families with Lower School students (Grades 1–5) and Pre-K or Kindergarten siblings, please drop off your Lower Schooler FIRST; then drop off your child(ren) at the Kindergarten building.
Grades 1–5 afternoon pick-up. Pick-up is in FRONT of the main building (at the Meyerhoff Theater overhang). Once carpool traffic extends back to the fork in the road on Park School Drive, cars coming down Park School Drive will be directed to bear right and proceed around the bus circle at the rear of the building, and then back to the carpool lane. Grades 1–5 pick-up begins at 3:15 p.m.

To streamline the process, Middle and Upper School siblings should join their Lower School sibling(s) at the Meyerhoff overhang.
Pre-K and Kindergarten
Pre-K and Kindergarten drop-off.
The school day begins at 8:30 a.m. Classroom doors open at 8 a.m. and you are more than welcome to park in the parking lot (there are spots designated for Pre-K and K drop-off and pick-up) and walk your child to the classroom at that time. There is early morning care available in the Kindergarten multi-purpose room from 7:30-8 a.m. for families who require an early drop-off due to work schedules or other constraints.
Pre-K and Kindergarten pick-up.
Kindergarten dismissal is at 3:05 p.m. The Kindergarten carpool line is intended only for those who plan to pick up their children and leave campus immediately. For those with siblings in the first through fifth grades: Please pick-up the older sibling first before heading into the Kindergarten carpool circle. This will alleviate the need to re-enter the ongoing Lower School carpool traffic. Should you wish to stay on campus beyond 3:10 p.m., please do not leave your car unattended in the carpool line.
---
MIDDLE SCHOOL AND UPPER SCHOOL
DRIVERS OF MIDDLE AND UPPER SCHOOL STUDENTS:

Drop-off for Middle and Upper School students will be at the front of school — at the Meyerhoff overhang.

Pick-up for Middle and Upper School students will be at the far end of the main lot next to the pond (at the awning). Drivers should turn left after the Lieberman Building (stone cottage), go down the parking lane, and turn right at the end of the parking lane to get in that carpool line. Upper School pick-up at the awning begins at 3 p.m. and Middle School pick-up begins at 3:15.
---
PICK-UP MAP: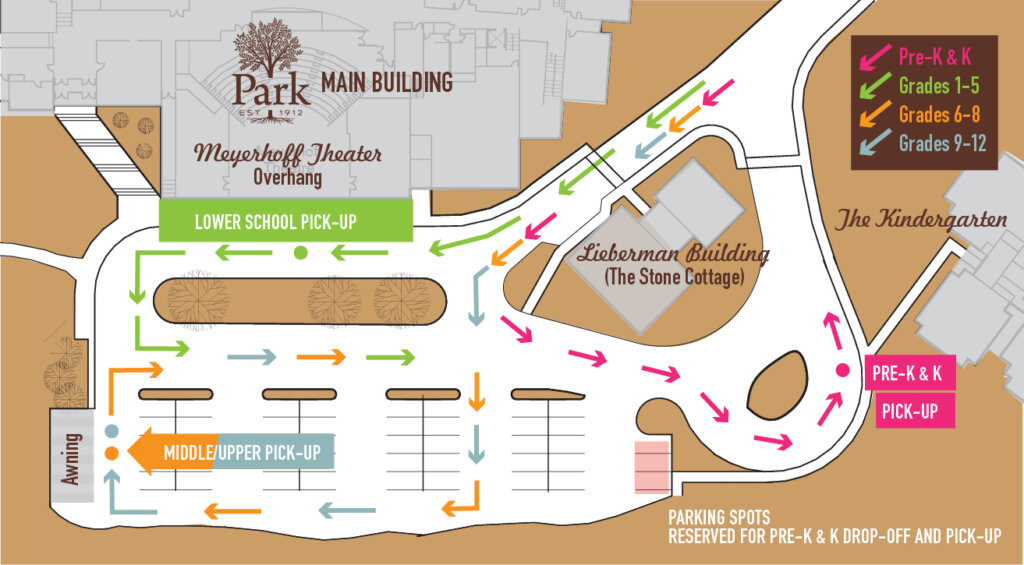 NOTE: Afternoon bus riders will depart from the Lower School "bus circle" outside of the Lower School entrance.
Morning Egress
To help expedite departures in the morning following drop-off, we will open our supplemental exit road that runs out of the upper parking lot. This exit is intended for those making RIGHT TURNS onto Old Court Road — toward Falls Road. Those turning left onto Old Court (towards Greenspring Avenue), should follow Park School Drive straight to our regular exit.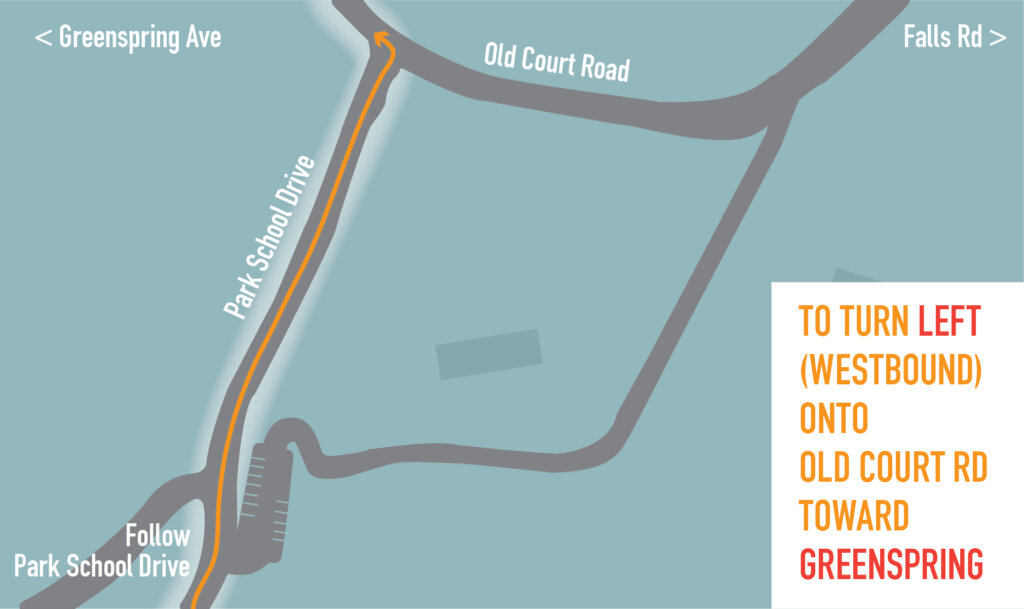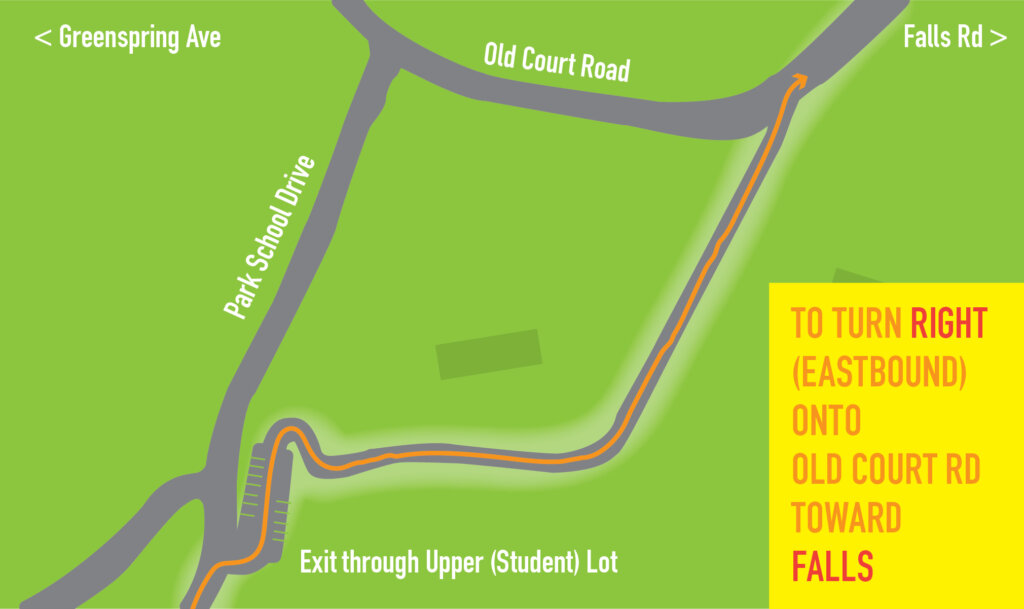 Parking
By utilizing the pasture as a year-round parking area, we have been able to maintain our on campus parking levels during the construction period.
There are some updates to our campus parking this year:
There is NO PARK SCHOOL PARKING in the Athletic Center lot. The lot is only a route to Lower School (Grades 1–5) drop-off and drop-off of the Middle and Upper School siblings of Lower School students.

Please be aware that the roadway to the Athletic Center will be the primary route for construction and construction-related vehicles.

The main lot (at the front of the school) is reserved for visitors and employee parking. There will be no student parking in the main lot.

Our senior drivers are to Park in the "upper" lot (formerly referred to as the "junior" lot). There is no employee or parent parking permitted in the upper lot.

Juniors are to park in the pasture lot (just beyond the upper lot) which has been prepared with a surface for year-round parking.

Overflow parking for employees and for visitors is available in the pasture lot.
---
General Traffic Safety
The State Highway Administration has placed flashing warning lights on Old Court Road prior to Park School Drive. The flashing lights are on timers and will only be active during our carpool times, both morning and afternoon. These lights are to warn drivers to slow down and proceed with caution while passing our school.
Some helpful reminders for all:
Do not use your cell phone while driving on our campus.
Please follow all carpool procedures.
Drive slowly on campus, particularly over the speed bumps. The maximum safe speed on Park School Drive is 19 mph. In pedestrian areas, please do not exceed 12 mph. Please be particularly mindful around our school personnel who are out on the roadways helping to guide traffic. In the rear of the building, where visibility is limited, proceed with caution as sight lines are limited.
Grant the right of way to all pedestrians.
Please make every effort to reduce emissions — turn off engines if waiting for extended periods of time. If sitting still for more than 10 seconds, turning off your engine saves gas, money, and the environment.
During drop-off and pick-up, we have an off-duty police officer stationed at the exit of Park School Drive to help people enter and exit our campus. Please follow the officer's directions.
Bus Transportation
Park offers bus transportation to and from many areas in Baltimore City, Baltimore County, and Howard County.
The fee for this service is based on one-way or round-trip travel and number of transported children per family.
Click here for details regarding all bus routes including community-stop locations, timing, and links to fee information and registration procedures.